Remember Microsoft's Ilumiroom project? It was a technology that used a projector to make your gaming room the entire screen, rather than just the main display you were using. It was an interesting concept, albeit a little unnecessary seeming, considering whatever was being projected was hard to make out and would be completely ruined by someone else being in the room with you. However clearly Microsoft hasn't stopped pushing this technology forward, as it now has a new system called Room Alive , that uses six Kinects cameras and projectors, to make an augmented reality experience.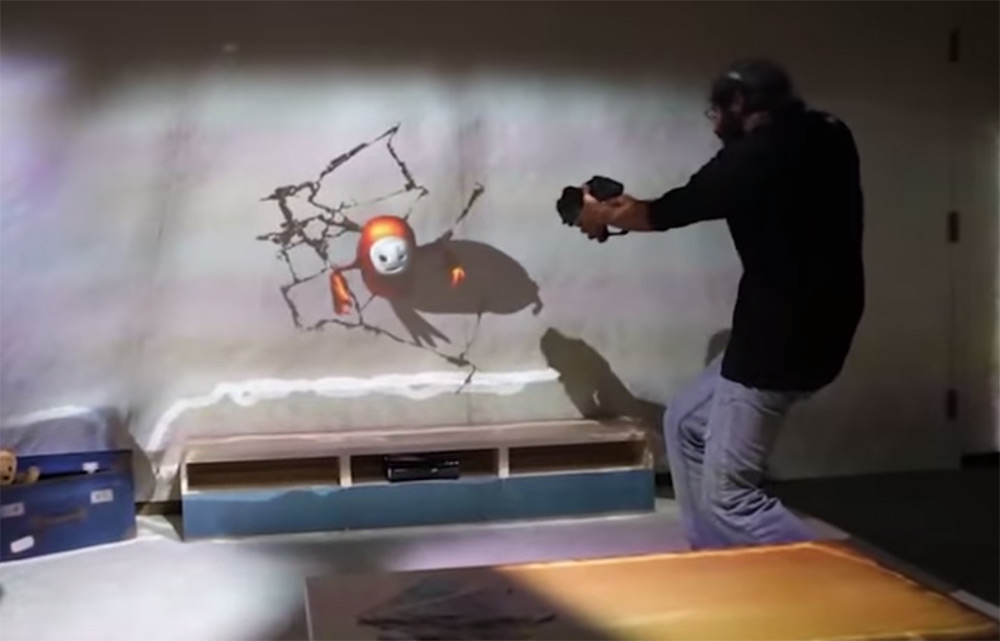 RoomAlive is able to map out an entire room and use everything in it, including the player, as a potential surface to project on. Similarly, thanks to the Kinect cameras, the player is tracked and their interactions also mapped out, allowing them to shoot, touch or interact in any number of ways with digital objects, projected onto the walls and real world items in the room.
[yframe url='http://www.youtube.com/watch?v=ILb5ExBzHqw']
All of this is done by the cameras mapping out horizontal and vertical surfaces and then linking up with the Unity engine to paste over content that fits those surfaces. To show what that can do, Microsoft and Projection Mapping, made four distinct scenarios for this demonstration, turning the living room into a factory, a forest with procedurally generated, falling raindrops, a trap laden dungeon and a simple whack-a-mole game.
One of the quite impressive aspects of the technology is the ease with which it is to set up. While there is certainly some expertise needed for mounting the cameras and projectors on the ceiling and wiring them all up, as long as the projections are overlapping in some way, the system can self calibrate. RoomAlive therefore could be installed by an end user.
Although the cost of six Kinect cameras and projectors is likely to put most people off.
Discuss on our Facebook page, HERE.
KitGuru Says: This certainly is a bit more interesting than Ilumiroom. What do you guys think? Would you rather a tech like this, or something more akin to the Oculus Rift?