Nintendo has a tough year ahead of it. With low sales of the Wii U over the last twelve months and new competition from the likes of Sony and Microsoft with their new systems, the Japanese console maker is going to have to do something extra special to win over gamers and share holders – and it plans to. Or at least, it has plans, as 2014 is going to be a busy year for Nintendo if the ones announced at its recent Nintendo Direct stream were anything to go by.
Obviously the two big focuses this year are going to be the 3DS and Wii U, so pretty much all of the information released by Nintendo involves games for the two platforms, with more than a few trailers thrown in for good measure.
With Nintendo's struggling home console, we can expect the Ubisoft RPG, Child of Light to hit the Eshop on 30th April in Europe and on 1st May in the US. It features the same Ubi-Art Framework used in Rayman Legends, so you can understand why the visuals are in a beautiful, hand drawn, 2.5D style.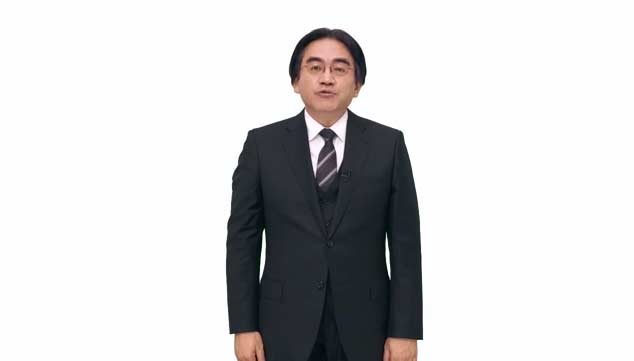 "Hey guys, Iwata show you something… get it?" 
Then there's the oft talked about, oft delayed Donkey Kong Country: Tropical Freeze, which will finally see the light of day outside of Japan on the 21st February. Mr Kong will also be making an appearance in a game that is expected to be at least a minor system seller, Mario Kart 8. In the new trailer for the beloved racing franchise, we see anti-gravity karts, transformations, new racers, updated tracks and of course, slightly improved visuals over the previous Wii offering.
[yframe url='http://www.youtube.com/watch?v=IHumxTD5Zr8′]
There was also an influx of JRPGs, with a trailer shown for Bayonetta 2 and a new title from Monolith Soft which previously helped out on 2008's Smash Bros and developed Xenoblade Chronicles. We don't know much about it yet, but it's similar to Xenoblade, with "more polish," and will feature a large, open world, giant monsters to battle and giant mechs to do so on in.
[yframe url='http://www.youtube.com/watch?v=8Sh8J25BgSU'] [yframe url='http://www.youtube.com/watch?v=WOrkdPR9Y6Y']
On top of these new titles, Nintendo will also be looking backwards to help bolster its library of games. Game Boy Advance titles are going to be available on the Virtual Console starting in April and there's also NES Remix II coming soon, which bundles bite size chunks of old Nintendo classics together, often throwing a spanner in the works by reversing the track or changing things up in other strange ways to make it interesting.
KitGuru Says: Some fun looking games in there, but if I wasn't already planning on getting a Wii U for other reasons, I don't know if there's anything there that would sell me one.