As much as pre-order bonuses for games aren't exactly the most popular industry standard and retailer exclusive bonuses aren't well loved either, at least most of the time they don't tend to break immersion. That's what seems to be happening in the Rise of the Tomb Raider "Holy Fire Card Pack," which takes the gritty, survival title and gives it a taste of the supernatural, with Lara suddenly able to make chickens explode and for people to catch on fire when they attack her.
There are a lot of pre-order options for Rise of the Tomb Raider, with each depending on where you order the game from. Buying from Amazon gets you ancient Byzantine armour, a new skin for her axe and a card pack that gives her extra armour when she kills someone. Buying from Best Buy gives her new hunting abilities and the chance to heal herself without using materials.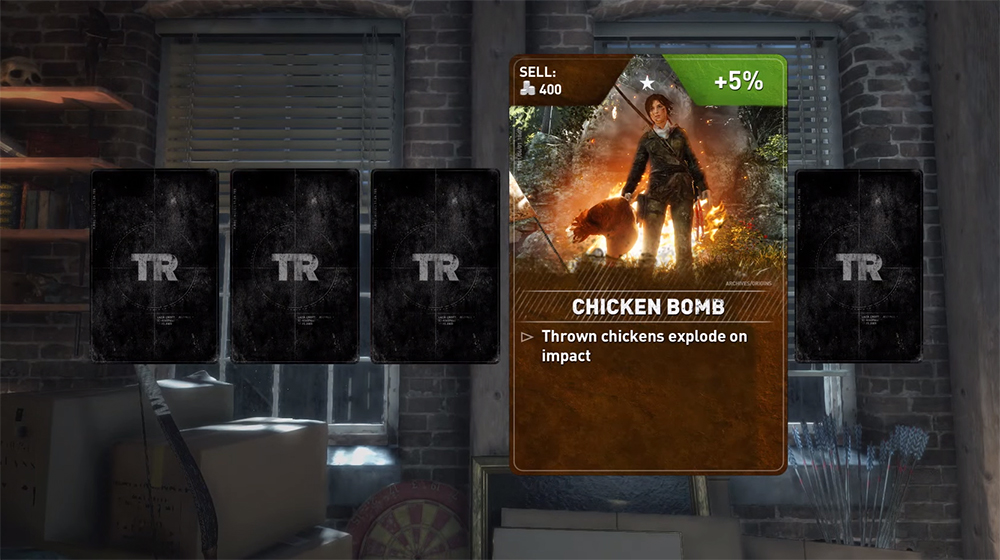 Some of the cards can be purchased with in-game currency too
But buying from Gamestop gets you the Apex Predator pre-order pack, which gets her a new pistol, the ability to take less damage from animals and the Holy Fire Card pack. The latter freebie makes enemies spontaneously combust when they touch Lara, explode with fire when they are killed and even chickens are turned into explosives, with no real explanation as to why.
[yframe url='http://www.youtube.com/watch?v=qUcEif1vUWc']
Lara doesn't strap bombs to chickens, or shove combustible chemicals down their throat; she just throws chickens and instead of squawking they kill people.
It does bear mentioning of course, that as much as this does affect the 'realism' in the game, these cards only come into play in the extra modes and can act as more of a fun addition and they don't need to be purchased or played with in any way. But it still feels a little out of place since the gritty reboot in 2013.
Discuss on our Facebook page, HERE.
KitGuru Says: What do you think about having exploding chickens in Tomb Raider? Does it ruin the mood, or is this just a fun extra like a cheat menu?