Rocket League continues to be one of the most popular games in the world and developer Psyonix really puts that into context for us when it claims that over a billion matches have been played. That shouldn't be too surprising though, as throughout the life of the game more than 25 million have played at least one.
Considering it was born off of the back of mediocre success story, Supersonic Acrobatic Rocket Powered Battle Cars, Rocket League was a bit of a surprise hit. It showed up in mid-2015 as a free PSN title and a purchasable one on the PC and simply took off. Within weeks it had thousands upon thousands of players and the rest is history.
Even now, more than a year and a half on from its release, it still has a regular peak of 50,000+ players on Steam, which is far in excess of even recent big title releases like Civilisation VI, the latest Call of Duty, Dark Souls III and a host of others.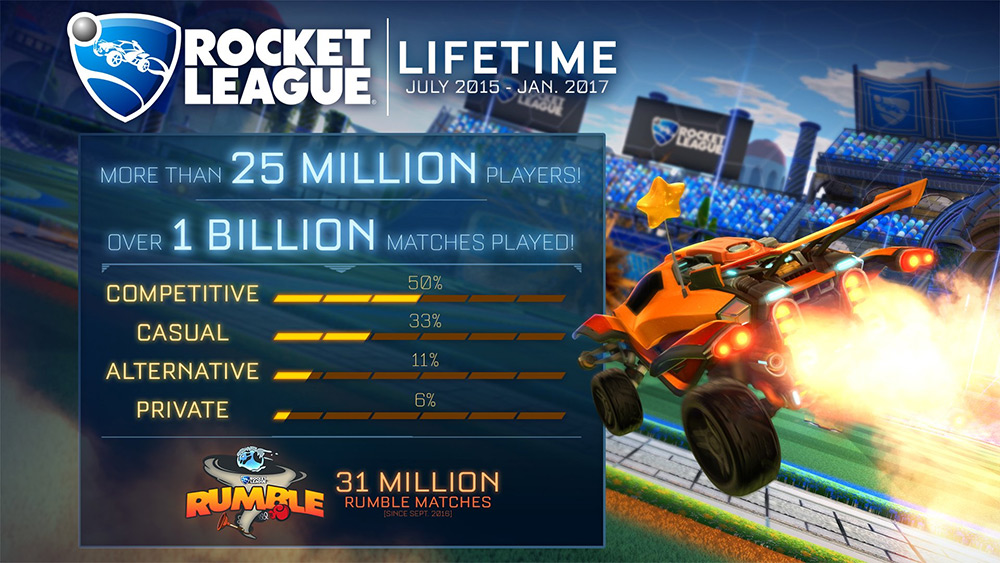 Psyonix celebrated this with its lifetime stats infographic, which tells us that more than 25 million players have boosted through a billion matches. What's just as interesting though is the split between ranked and unranked play. While a lot of games might have a daunting competitive game mode, 50 per cent of all Rocket League matches have been ranked.
In comparison, just 11 per cent of games – though that still works out to 110 million – used 'alternative' rules.
Discuss on our Facebook page, HERE.
KitGuru Says: I played Rocket League religiously for its first few months of release, but my playtime has fallen well behind my peers now. It gets to a point with every competitive game that you realise the massive time investment required to progress further in the rankings and that's usually when I go back to something single player.