If you've booted up Steam this morning, you've probably bumped into Valve's latest update for the digital distribution platform, called the, "Steam Discovery Update," which changes how the store operates quite drastically, in order to make the 'discovering' and purchase of new titles that bit easier.
As Valve's platform has evolved over the years, it's gotten bigger, more fluid and certainly more popular. While once it was enough to check the store page every few weeks and pick up a title or too, in order to feel like you weren't missing out on anything good, today, hundreds of games go up every month. In-fact, in less than a year, Valve has added over 1,300 new games to Steam. There just isn't enough time to play them all, so Valve is changing the way that we find them in the first place, to make it easier to stumble upon titles that we might enjoy.
On the store homepage, Valve has changed a few of the windows on display. The classic scrolling new-release and pre-purchase windows remains, along with a Steam Sale/Deals page on the right. There's also still a box exclusively for new titles, however Valve has now added a recommendation section which is based off of your own personal gameplay experiences. If you've played a lot of a certain genre or developer, Steam may recommend something similar.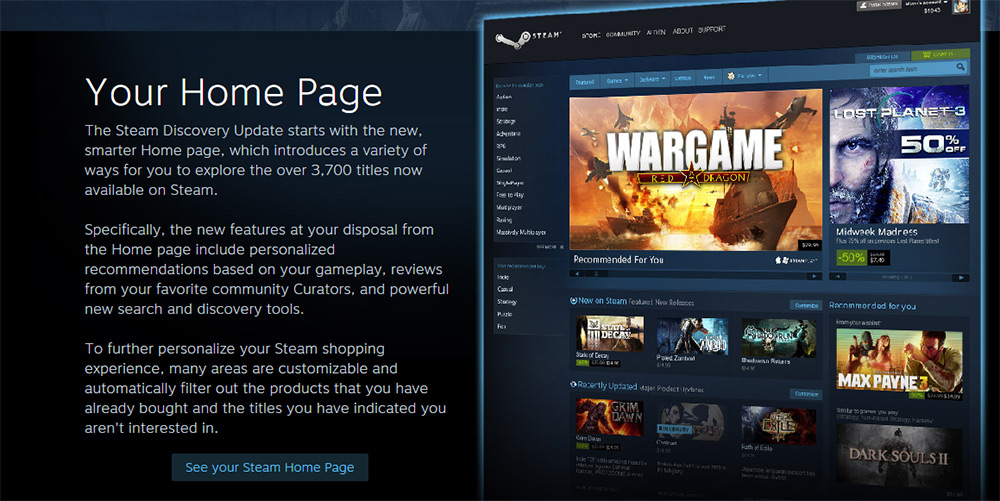 To help build up that profile of you, as well as playing games you can also register your interest in them. When Steam pushes a game in-front of you to see if you're interested in buying it, instead of ignoring it, you can add it to your wishlist, follow its progress or claim disinterest. Whichever you pick, Steam will remember the choice and make changes to your discovery queue automatically.
There's also a new section for reviews from other gamers, as well as updated search tools, which let you specify multiple fields at once, as well as certain maximums like price. And if you scroll right to the bottom of the page, new recommendations appear again and again; you can keep going for a long time.
However if you don't like any of these sections, you'll now be able to customise each area to make your home page your own. Don't want to ever play an Early Access title again? Simply untick its corresponding box and you won't have any recommended to you. Likewise with software, DLC, pre-orders or any other piece of downloadable gaming that you aren't interested in.
Discuss on our Facebook page, HERE.
KitGuru Says: This is a big update, so check out your own Steam home page for full details. For those of you that have seen it already, what do you think of the changes?