Last year was a disastrous one for AAA releases. So many released with reams of bugs, flaws and issues that made them practically unplayable for a number of players. Much of this was laid at the feet of pushy publishers rushing to hit release targets and Ubisoft was one of the worst culprits. Not only did it release Assassin's Creed Unity, with its missing faces and frame rate issues, but it also released The Crew, a supposedly next generation racing title that has many, many problems as well. And they're still ongoing, as KG readers have brought to our attention.
While a good number of game-play bugs seem to have been sorted, one glaring issue with the online game remains: hackers. Through illegitimate bugs they've been able to change in-game physics, give themselves speed and acceleration boosts, make their car's invulnerable and many other tweaks that utterly break multiplayer gameplay. Many of them can be seen in this video posted just a few days ago:
[yframe url='http://www.youtube.com/watch?v=m7WvF0OOBeE']
The hacker showcased in the above video is TiggerArmenia, who also goes by the names AMPEH and MOCTAPHCABTO in Test Drive Unlimited 2, where they are also known to cause problems for other gamers. But if you play The Crew online at the moment, then you'll already know this name very well, as they're the current world record holder on almost everything.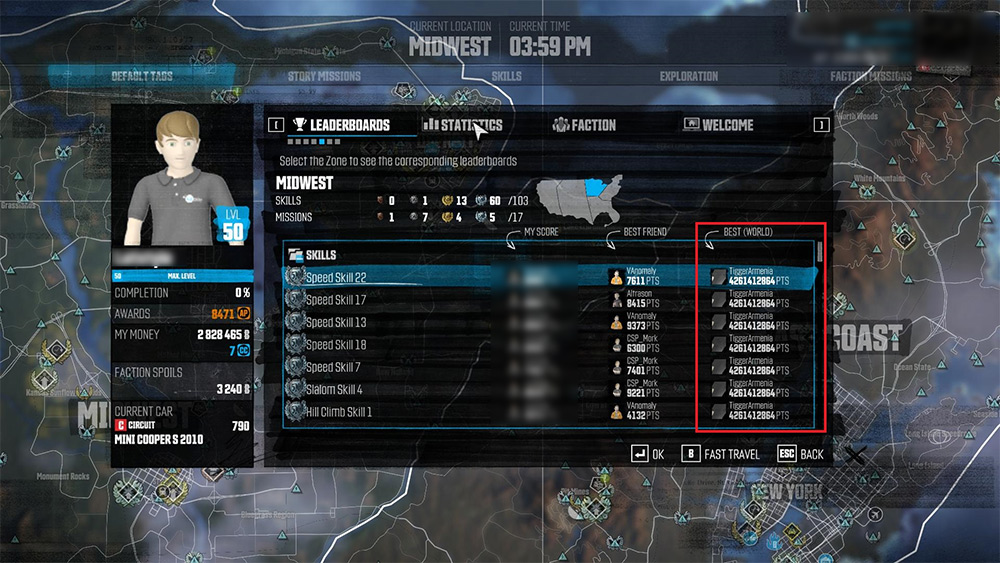 While I don't have the game myself, so can't verify, I'm told by a KG reader this screenshot is from yesterday afternoon. However, they also said that TiggerArmenia has been a problem within the game, breaking leaderboards and ruining multiplayer games for months. This is confirmed by this same name appearing on lists of cheaters from December 2014.
We reached out to Ubisoft's community manager for the Crew, Natcha Stappers, to see if we would find out why Ubisoft hasn't at least cleared up The Crew's leaderboards. His response was similar to that given to the community, that for now they can't comment on what's being done.
@JonWhoopty @KitGurupress they are being worked on, but we can't go into too much details regarding it, sorry 🙂 The patch will fix a lot 😉

— Natchai! (@natchai_) February 9, 2015
@JonWhoopty @kitgurupress I can't give you any more information on the subject until all has been executed, sorry

— Natchai! (@natchai_) February 9, 2015
The patch he mentions is presumably the one detailed here. Although the patch notes say nothing about the banning of specific hackers and cheaters, it does address a couple of potential bugs, though not even a fraction of the ones obvious in the above video.
As if to make matters worse, PC Season Pass owners are being given the short end of the stick with upcoming DLC content. Although one of the early-buy bonuses of The Crew's season pass was to give owners access to DLC content a week early, for an unannounced reason, PC Season Pass owners will now only be getting access to the content after everyone else.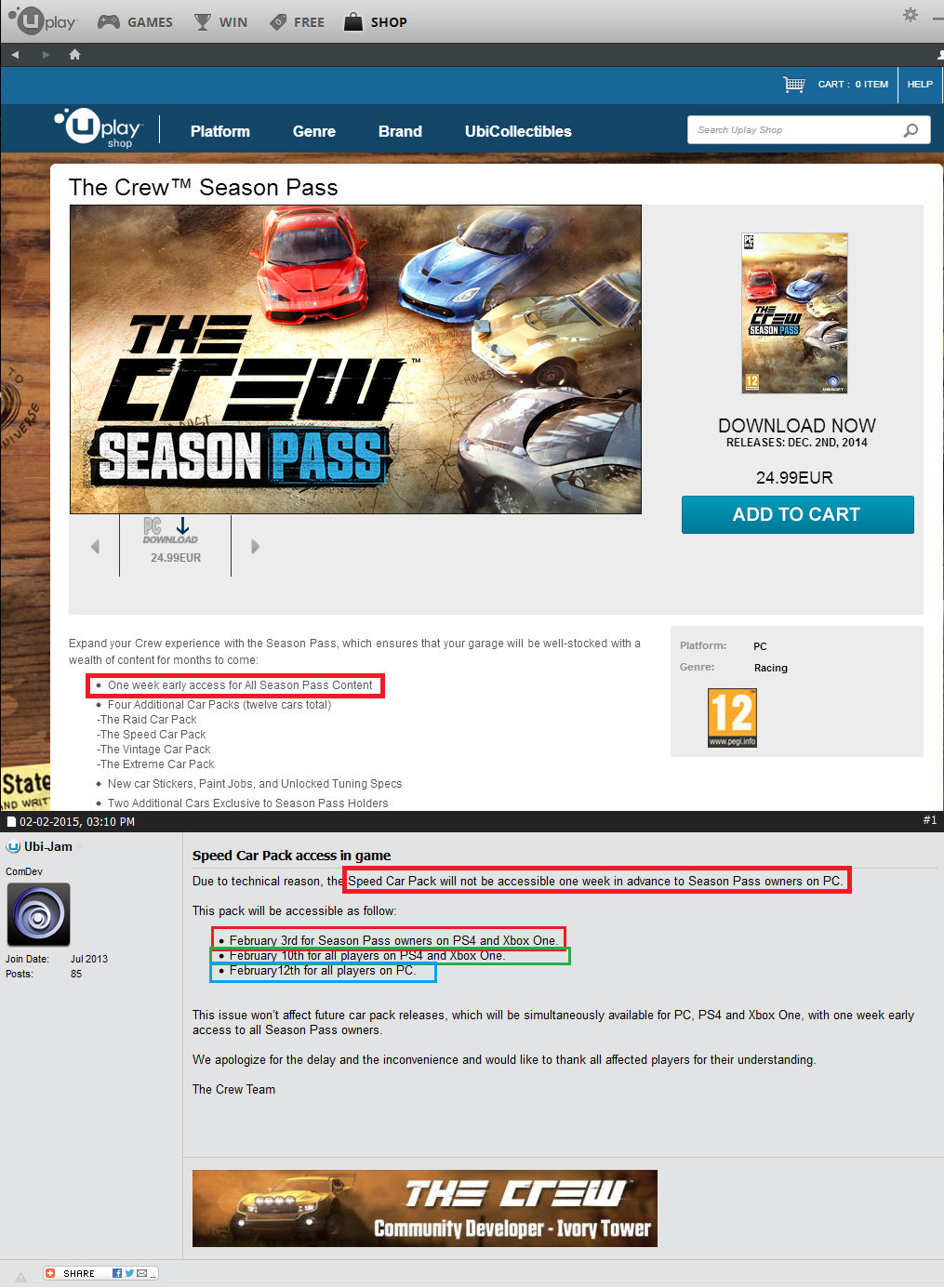 This is not only not-early, but two days late
The only official response by Ubisoft on this matter was that the reason for the delay was due to a 'technical issue.' Regardless of the reasoning though, many people are hopping mad. Since Ubisoft saw fit to give owners of Assassin's Creed Unity compensation for problems with that game, The Crew gamers are now demanding it for being denied something they paid for. There is a possibility Ubisoft will do this, as staffer Stappers has promised some sort of official response soon.
KitGuru Says: Are any of you still having problems with The Crew or other Ubisoft games? If so, feel free to let us know and we'll see if we can shine a light on all the ongoing problems.