Turtle Rock, the developer behind the original Left 4 Dead and now my most anticipated game of the year, Evolve, has released a trailer for the monster hunting, human bashing game, showing the perspectives of every player and giving you a real idea of what it's like to play it.
[yframe url='http://www.youtube.com/watch?v=m97O1dQAyhc']
With so many perspectives on show, it's a long video so if your lunch hour hasn't started yet, preload this one for a treat, as it's filled with monster action and tactics, along with some of the team work you'll need to master as the hunters if you ever want to take down the creature in what is essentially a multiplayer, 20 minute boss fight.
Showcased in the video are several of the abilities the players have, as well as the weapons of the hunters, which I can tell you from personal experience, are so varied that each feels very unique – only the Assault class feels traditional.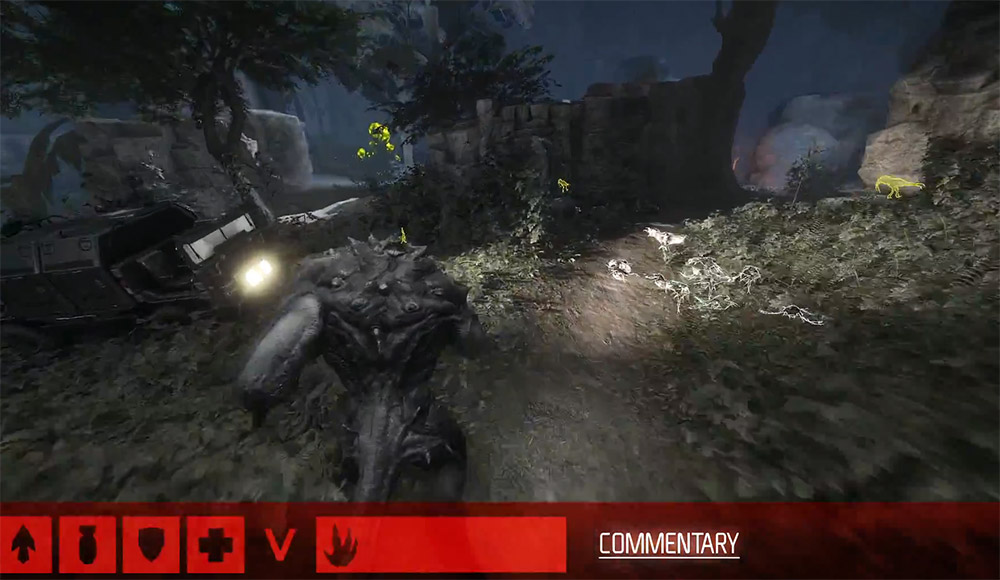 The gameplay starts off from the monster's perspective, but switches back and forth regularly throughout
Bear in mind as well, that what we're seeing here is just a small fraction of the final game. There's going to be more monsters, more maps, more game modes and more hunters, so there's a lot of potential for a game that I already known is incredibly fun to play.
Discuss on our Facebook page, HERE.
KitGuru Says: Evolve stole the show for me at i51 over the weekend and it's hard to accept that it's going to be another few months before I can get to play it again.