One of our most popular stories this year, involved Pornography streaming site owners, Youporn, announcing that it was looking to sponsor an esports team. Unfortunately for the many of you that got in touch, or professed your interest on our Facebook page, it looks like Youporn has found a team.
Announced on its (very NSFW) twitter account, Youporn said: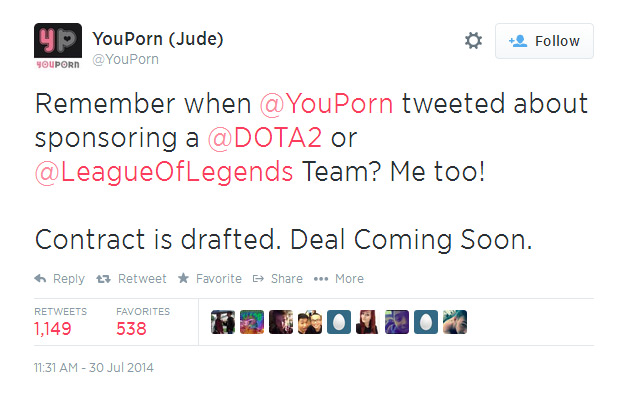 All of its other tweets are to do with matters of the heart (ok, only sometimes), so we don't have a lot of information beyond the above tweet. However as PCG points out, there are hints that it could be VirtusPro, who's only achievement this year is coming second in the 2014 Techlabs Cup in May.
It will be interesting to see which team has been given the chance to play with Youporn at its back, as it were, and what kind of sponsorship it plans to provide, considering it doesn't have any products that it can freely give away.
Or at least, none that can really aide gameplay.
We've reached out to Youporn to find out more and will update this story when we hear back.
Discuss on our Facebook page, HERE.
KitGuru Says: Chances are we'll soon see some eSports team jerseys with Youporn's logo on them. What do you think the reaction from Riot and/or Valve will be?