Update: Youporn recently tweeted to a few showing interest, that if you have a team and you want sponsorship, email your details here: [email protected]
Original Story: Are you an aspiring eSports team or player of games like Starcraft II, League of Legends, DotA 2 or Hearthstone? Have you struggled to get sponsored? Well there's a new kid in town that's looking to pony up some cash for top players, as long as they don't mind being associated with pornography. YouPorn, the… site, that some of us visit on a regular basis, has announced that it's looking to sponsor eSports teams.
As you might expect from such a popular site, the news has gotten a lot of traction, with thousands of people favouriting and retweeting the message on Twitter. It's not clear if YouPorn is looking to take on an already successful pro team, or will be teaming up with some youngsters with potential, but presumably it's had a lot of applications already.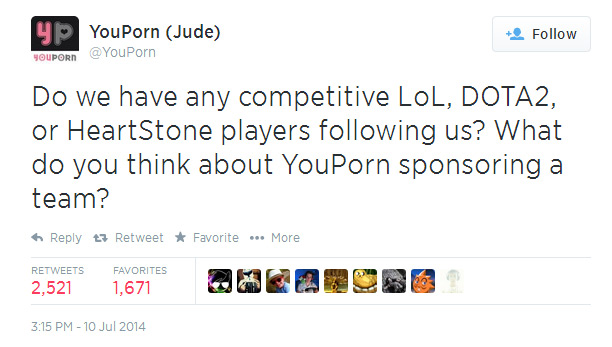 As a heads up, if you're at work, don't look at the full account. It's very NSFW.
As PCGamesN points out, pornography and eSports have crossed paths before, when Brazzers said it was interested in sponsoring a team. Not many people were impresed with the idea, suggesting that it would have a negative impact on the industry. However nothing ever came of it, so until now, it wasn't a bridge that needed to be crossed.
Discuss on our Facebook page, HERE.
KitGuru Says: Would you guys accept sponsorship from a porn streaming site? If so, are there any of you that might consider applying?