Blizzard has already taken an impressive stance against cheaters in Overwatch but now the studio is also going after the cheat creators. Blizzard is suing Bossland, a German cheat maker on the grounds of copyright infringement, unfair competition and a violation of the DMCA's anti-circumvention clause.
The Overwatch cheat in question would give the user ESP, allowing them to see hostiles, their names and how far away they are. Being a premium hack, it was purchasable on a subscription basis, starting at €12.95 per month.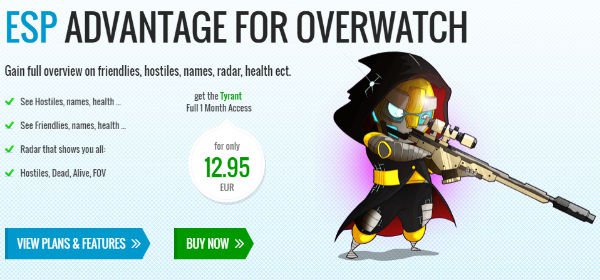 As TorrentFreak points out, Blizzard filed its lawsuit against Bossland in California and it claims that Bossland is causing irreparable harm to Blizzard: "The Buddy Bots and the Overwatch Cheat (collectively, the "Bossland Hacks") have caused, and are continuing to cause, massive and irreparable harm to Blizzard. Blizzard's business depends upon its games being enjoyable and fair for players of all skill levels, and Blizzard expends an enormous amount of time and money to ensure that this is the case. The Bossland Hacks destroy the integrity of Blizzard Games, thereby alienating and frustrating legitimate players and diverting revenue from Blizzard to Defendants."
Right now, Bossland's ESP cheat is still online but with this lawsuit going through, that will likely change.
Discuss on our Facebook page, HERE.
KitGuru Says: Blizzard has been unforgiving with those cheating in Overwatch and now the studio is going after those supplying the programs in the first place. Do you guys think it is fair of Blizzard to go after cheat programmers? It seems to make sense if they are profiting from subscription fees.