Last week, players discovered that a hidden XP scaling system was active in Destiny 2. The system essentially limited the number of Bright Engrams players could earn at once by ramping down how much each XP point was worth after playing for a period of time. Since then, Bungie has admitted that this system was present in the game and given its own statement on the matter.
Currently, once you hit the level 20 cap in Destiny 2, the game continues to give you experience points for playing. However, instead of leveling up, you will receive a 'Bright Engram' each time you fill the XP bar all the way. These engrams are Destiny's loot drops and they can be bought for real money this time around, or you can keep grinding the end-game content to earn them through XP gathering.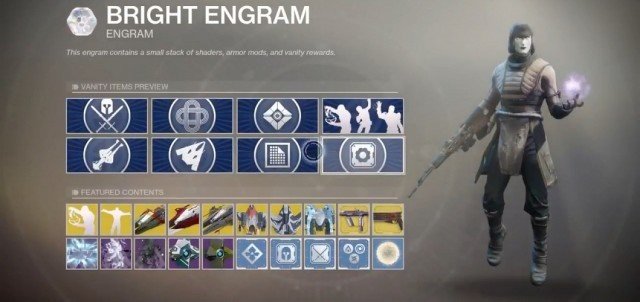 The XP scaling system would actively reduce how much each XP point was worth on your experience bar. Bringing it down to the point where you are only getting four percent of the XP you should be getting. Bungie has "seen community discussion" surrounding this system and after reviewing its data, the developer will be switching this system off.
"After reviewing our data, we agree that the system is not performing the way we'd like it to. Today, we'd like to describe what's going on under the hood, and talk about what you can expect going forward when it comes to earning XP in Destiny 2. Currently, XP will scale up when playing longer or fixed duration activities like Crucible competitive multiplayer matches and the Leviathan Raid, and XP will scale down when playing activities that can be quickly, repeatedly chained, like grinding Public Events. We are not happy with the results, and we've heard the same from the community."
The Destiny 2 dev team then went on to say that this system will be deactivated "effective immediately". In its place, Bungie will be changing XP earn rates for end-game content across the board but will ensure that all values are properly and consistently shown in the UI. New changes will be announced via Bungie's official channels.
KitGuru Says: In most RPGs and MMOs, over time you will need to gather larger amounts of XP to fill up the bar all the way. I don't think that's necessarily an issue. The problem for me was the secrecy of it. Destiny 2 is a very rewarding game as it is, Bungie just needed to be upfront about XP values, rather than trying to hide it.