The file size for Call of Duty: Modern Warfare has been creeping up each season and as exciting as Season 5 might be, the game is starting to get out of control. As of the most recent patch, the game is now over 200GB on PC. 
The game's install size will vary a little, I have seen some reporting their folders sitting at 201GB, while my own install of Modern Warfare is currently 212GB.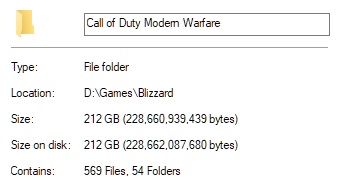 As the game size continues to balloon, it is going to become a real worry for those that use 240GB SSDs, or simply like to have more than one game installed at a time.
There are rumours that Infinity Ward is working on making Modern Warfare more compact, but if or when that update will finally come along still remains to be seen.
KitGuru Says: I've been enjoying COD again recently so I don't want to uninstall it, but at the same time, I'm not sure I can justify eating up over 200GB of SSD space for a game I play a couple of times a month. What is your Modern Warfare install size currently sitting at?