Update: Following on from last week's leak, today Bungie and Activision officially announced Destiny 2 with a a simple social media post, showing the Destiny 2 logo.
Destiny 2 was made official in a Tweet earlier today. Unfortunately though, Bungie hasn't given us any other details at the time of writing. Hopefully a trailer will follow shortly alongside some other announcements about the game.
Original Story: We've known that Bungie has been working on Destiny 2 for a while now. In fact, word on the street is that development began very soon after The Taken King expansion launch. Now, after a couple of years in development, it is nearly time for Bungie to unveil its second full Destiny game, with a leak today giving us a release date, a beta date and apparent confirmation of a PC version.
The initial leak came from Jason Schreier at Kotaku, who has been a very reliable source for all things Destiny-related since its launch. After speaking to his sources, he was able to get a photo of the marketing materials for Destiny 2, which reveals an 8th of September release date.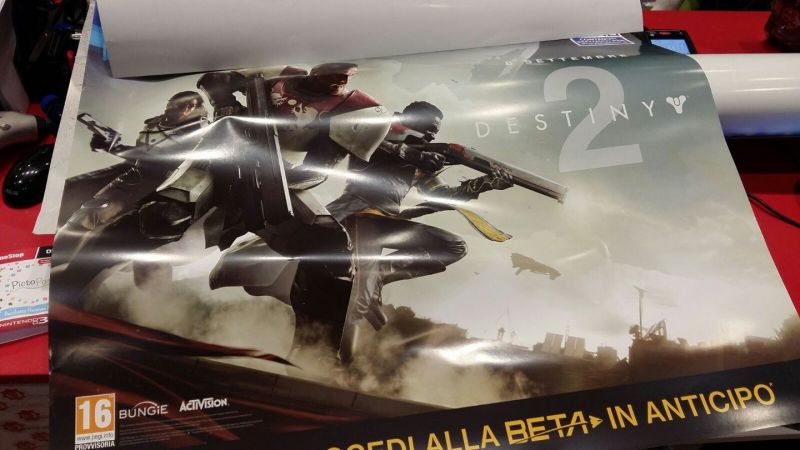 The poster came from an Italian retailer and it also hints to an upcoming beta. A second poster leak confirmed the 8th of September release date in Europe. Right now, it is believed that the beta will arrive in June.
According to the report, Destiny 2 is aiming to be very different to the first game with less barren planet regions, with larger maps with towns, outposts and additional quests spread out across the planet. The report also claims that Destiny 2 will in fact come to PC, presumably because there is no longer need to support the Xbox 360 or PS3, freeing up some additional development resources for the PC platform.
KitGuru Says: Not everyone liked the way the original Destiny turned out but for me, it has been one of my favourite console games this generation. With that in mind, I have high hopes for the sequel, especially if it ends up coming to PC, which will make the multiplayer much more enjoyable. Did any of you play the original Destiny? Will you grab the sequel if it comes to PC?