A newly leaked image from what looks to be a Bungie meeting is doing the rounds on the Internet today, showing off what could be Destiny's DLC roadmap for 2015. According to the leak, we can expect to see one major on-disc expansion titled 'Comet: Plague of Darkness'.
Comet will be familiar to those who have followed Destiny as the expansion was mentioned in a leaked Bungie/Activision contract from 2012. The contract described Comet as a "major downloadable content expansion', it looks like it will be launching on disc next year and may very well cost more than the smaller expansions we've seen so far- namely The Dark Below and House of Wolves, which is due to release in March.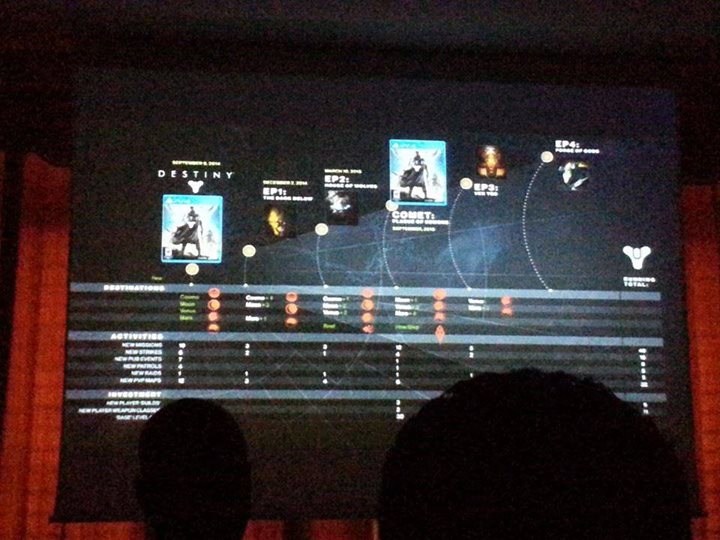 Apparently Comet will include 12 new story missions in total, hopefully patching up the little story telling there was in the original base game. There will also be four new strikes, one new raid and six new PvP maps.
Over the next year of expansions, Destiny will also receive new sub-classes es and weapon types. A few months after Comet's September release a fourth expansion will launch, currently titled 'Forge of Gods', although there are no hints as to what this expansion will include.
While this image surfaced very recently, it is in-fact a few months old. Bungie's release plans may still change, given the fact that this was not supposed to be public knowledge at this stage. However, it does give us a good look at the game's future.
Discuss on our Facebook page, HERE.
KitGuru Says: We already know that Destiny ran in to some trouble some time over the last year of development, which resulted in a lot of content changes. Hopefully Bungie can get back on track some time in the future and save its original vision for the game.