If you signed up for the Evolve 'Big Alpha' then you're going to need to make sure that your PC can actually run it, so TurtleRock Studios has released the system requirements alongside a few other details about the game and its progression system.
Chances are you PC can run the game, the barrier for entry is pretty low, especially compared to other games coming out right now like Assassin's Creed Unity, The Evil Within or Shadow of Mordor. Minimum specifications include an Intel Pentium D 3 GHz CPU or an AMD Athlon 64×2 Dual Core 6400 2.4 GHz. You'll need 4GB of RAM and on the GPU side you'll want at least an AMD Radeon 5770 or an Nvidia GTX 560.
However, it is recommended that PC players have a first generation Intel Core i7 CPU or an AMD A8 3870 APU for the game's processing needs. 6GB of RAM is recommended and you'll want a fairly decent GPU like an AMD R9 280 or Nvidia GTX 680.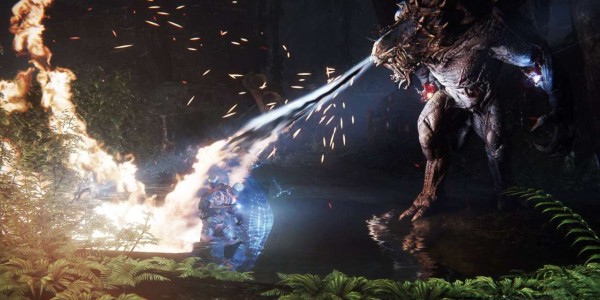 The Big Alpha will let you experiment with the game's progression system which works on two intertwined levels, character progression and player progression. Character progression refers to experience earned within the match that you can use to improve your specific character's skills, weapons and abilities. Once you master one character, you'll unlock the next in its class.
Player progression refers to your overall player rank, regardless of class, suggesting that there is going to be some form of leaderboard and therefor, competitive play involved with this game. There are 40 levels in total and you'll earn perks along the way, these are selectable before matches. Perks will include weapon switching speed, damage bonuses and health regeneration.
You can read more details surrounding the upcoming Big Alpha on Evolve's website, HERE.
The Big Alpha launches on the Xbox One on the 30th of October, PS4 and PC players will get access the following day. There will be 12 hunters and two of the announced monsters to play as and you'll have access to three maps.
Discuss on our Facebook page, HERE.
KitGuru Says: Evolve's 'Big Alpha' will be the game's final alpha phase test before its final launch in February next year. We don't know if there will be a beta test yet but considering that the release date isn't too far off, we will probably find out soon. Did any of you guys sign up for the Evolve Alpha? Are you looking forward to the game at all?