Many of you will remember Evolve, it was a fairly promising looking game in the build-up to its launch but once word of Turtle Rock Studios' DLC plans started going around, a lot of people were put off entirely. These days only a handful of people ever launch the game but Turtle Rock is hoping to give Evolve a second chance by turning it into a free to play game instead.
Evolve has had other issues aside from massive amounts of DLC. The game was pretty low on the content side of things at launch, with a lack of maps and game modes, which meant that those who did buy the game didn't stick around for long.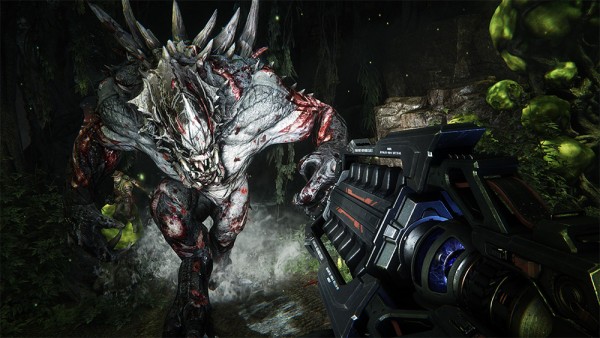 Turtle Rock has removed Evolve from sale on Steam and the free to play version will go live later today. In a message posted on their website, Turtle Rock developers spoke out about the game's early troubles: "When Evolve launched, the reception wasn't what we expected. Sure, there were some good reviews. There were also bad reviews. Yes, there was excitement. There was also disappointment – for players and for us. The DLC shitstorm hit full force and washed away people's enthusiasm, dragging us further and further from that first magical pick-up-and-play experience."
"We want that magic back and we aim to make it happen. We've made a lot of changes, improvements and additions to Evolve over the past year and we've got a lot more coming. In short, we're giving this game a vigorous overhaul!"
Some examples of changes coming to the new version of Evolve include:
Reworked hunter classes to make them less reliant on decent healers or trappers.
Reworked maps and UI.
Shorter load times and higher performance.
Improved stability.
A new progression system.
More customisation options.
Anyone that bought Evolve prior to it going free to play will get 'Founders' status in the new version, you will keep the content you paid for and get other rewards and 'special access', though that isn't really elaborated on.
KitGuru Says: Perhaps this is the new lease of life that Evolve needed. It will be interesting to see how many people end up playing the new version of Evolve now and how many stick around for the future now that things have been tweaked and reworked. Did any of you play Evolve at launch? What do you think of the game going free to play?