The top ten most popular games on Steam has been shaken up a few times in the last few years. This week, a newcomer has broken the ranks of Steam's most concurrent players, with Fall Guys gaining more concurrent users than Grand Theft Auto V, Rainbow Six Siege, Destiny 2 and other huge games. 
This weekend, Fall Guys reached a peak player count of 124,772, beating out Grand Theft Auto V, which peaked at 116,862 players today. This puts Fall Guys in the number four spot for most concurrent players, coming in below PUBG, Dota 2 and CS:GO.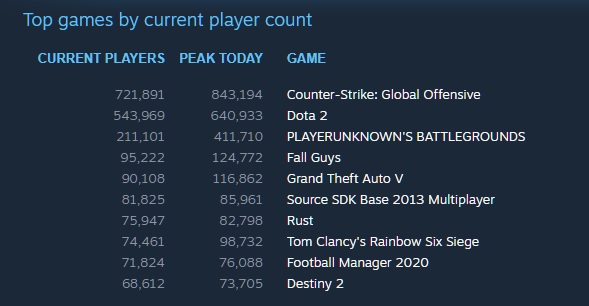 As pointed out by Benji-Sales on Twitter, Fall Guys' success is even more impressive, beating the peak player counts for other huge 2020 Steam releases like DOOM Eternal, Sea of Thieves, Resident Evil 3 and Horizon Zero Dawn.
Fall Guys is available now on PC and PS4. As you might expect, reviews for the game are mostly positive, although the massive influx of players has caused some server stability issues over the last 24 hours.
KitGuru Says: Have many of you played Fall Guys: Ultimate Knockout this week? Does the game live up to the hype?