Square Enix will finally be bringing Final Fantasy XV to PC in a couple of months time. So far we have a release date, minimum/recommended/4K system requirements and now, we have a benchmarking tool to check out performance well ahead of time.
Pre-orders for Final Fantasy XV have gone live this week. If you want to check out what sort of performance you can expect to get before putting your money down, then you can grab the free benchmarking tool from the Square Enix website. It's a fairly sizeable download, coming in at 3.7GB and the benchmark itself runs for quite a while too.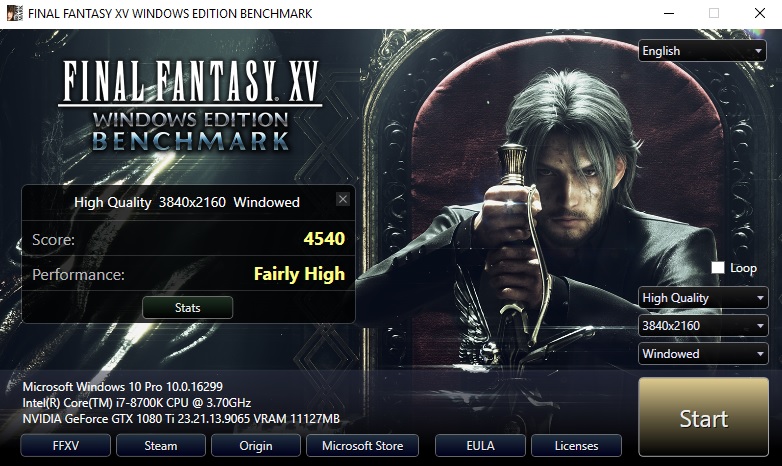 I ran the benchmark at the Very High preset at 4K resolution with a Core i7-8700K and a GTX 1080Ti and managed to score 4540 points. I'm not sure what that translates to in frame rate, but it seemed to be running smooth enough. Unfortunately, ultrawide resolutions like 3440×1440 are not supported by the benchmark, you can only run at 1080p, 1440p and 4K.
Final Fantasy XV launches on PC on the 6th of March. All previously released DLC will be included, in addition to mod support.
KitGuru Says: I'm looking forward to this game, though the benchmark did have some odd bugs every now and then, so I'm hoping those won't appear in the final game. Let us know what scores you managed to achieve using the benchmark tool.