March was a big month for GeForce Now, with a ton of games added to the library, improved integration with other platforms and a revamp of the subscription tier. Things aren't slowing down in April, as another 34 games will be added to the GFN library. 
This week's GFN library update is of course headlined by Outriders, which launched last night. However, 12 other games also joined Outriders in coming to GeForce Now this week. Here are the new titles available on GeForce Now this week: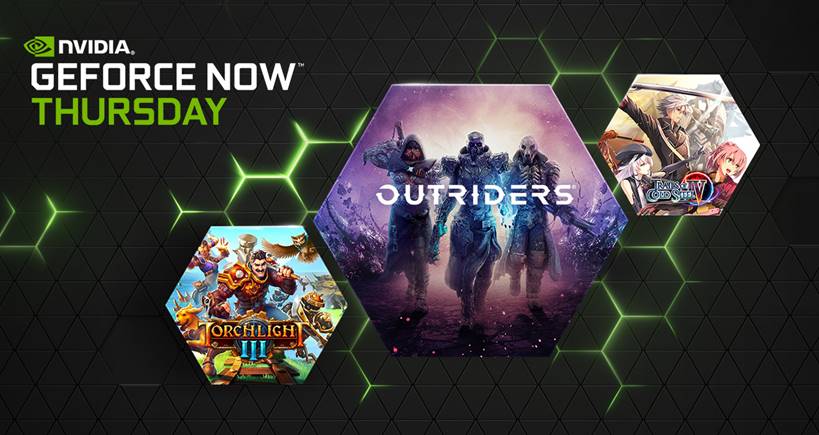 Other games confirmed to be joining the library this month include:
41 Hours (Steam)
Beholder 2 (Steam)
Chinese Parents (Steam)
Earth Defense Force: Iron Rain (Steam)
The Legend of Heroes: Trails of Cold Steel IV (Steam)
POSTAL 4: No Regerts (Steam)
R-Type Final 2 (Steam)
Shio (Steam)
Spintires (Steam)
Stronghold 2 (Steam)
Stronghold 3 Gold (Steam)
Stronghold Crusader 2 (Steam)
Stronghold Crusader HD (Steam)
Stronghold HD (Steam)
Stronghold Kingdoms (Steam)
Tomb Raider: The Last Revelation (Steam)
Torchlight (Epic Games Store & Steam)
Torchlight III (Steam)
Trine: Enchanted Edition (Steam)
Turnip Boy Commits Tax Evasion (Steam)
Watch Your Ride – Biking Game (Steam)
These remaining games will be split up amongst Nvidia's weekly GeForce Now library updates, so they won't all appear at once. With that in mind, you'll want to keep an eye out for the weekly updates if there is something you're particularly keen to stream.
KitGuru Says: Have any of you tried GeForce Now since last week's subscription changes? What sort of games do you usually use the service for?