So Fallout 4 was announced recently, as was the collector's edition, which comes with a Pip-Boy included, the only downside to which is the fact that you have to supply your own display for it. Now Bethesda has revealed exactly which smartphones will fit in the Pip-Boy edition of Fallout 4.
If you haven't pre-ordered the collector's edition just yet then you may want to do it soon if you want that Pip-Boy as it is selling out very fast almost everywhere.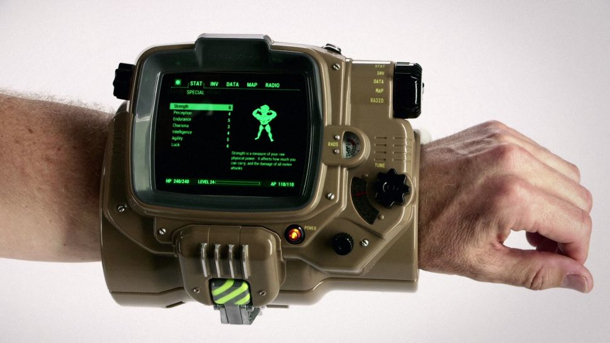 Anyway, if you have a Pip-Boy on the way in November, then you will need a smartphone the size of an iPhone 6, iPhone 5, iPhone 4, Samsung Galaxy S4 or Samsung Galaxy S5. The foam inserts for the Pip-Boy have been measured around these devices specifically but if you have a similarly sized phone then it should fit.
"As we wanted to stay faithful to the dimensions of the in-game model, any smartphones larger than the models listed will not fit inside the wearable device. For these larger devices, our Pip-Boy companion app will still be available", Bethesda said in its post. 
Obviously if you don't have a pre-order in for the Pip-Boy edition for Fallout 4 then you will still have access to the app, which will allow you to control the in-game pip-boy and its functions.
Discuss on our Facebook page, HERE.
KitGuru Says: The Fallout 4 Pip-Boy app is a gimmick but it is undoubtedly a pretty cool one. Obviously people wanted to own a Pip-Boy as the special edition of the game has already sold out in many places. Did any of you spring for the pip-boy edition of Fallout 4?