We've known about IKEA's partnership with ASUS ROG for a while now. The two companies began planning 'gaming furniture' back in 2020 and in January, this line of products officially launched in China. Starting next month, IKEA x ROG gaming furniture will also be available in the UK, and there's going to be a big Rocket League tournament to celebrate the launch, with a £5000 grand prize.
Today, ASUS ROG, in partnership with IKEA, announced that it will be hosting an online Rocket League tournament. If you've got a team ready to go, you can enter the IKEA x ROG For Those Who Dare Challenge, which begins on the 24th of September. This first round of qualifying games will narrow the pool down, with winners moving on to the second qualifying stage, which will be held from the 27th to the 28th of September.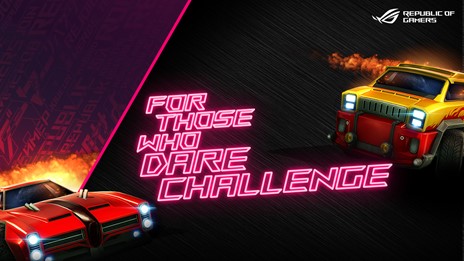 If you make it through the qualifying rounds, your team will then move on to the semi finals, which takes place as a live event on the IKEA x ROG gaming stage at EGX, taking place in London. Naturally, semi-finals winners will then move on to the finals, which takes place on the same day.
The winning team will receive a £5000 cash prize, as well as a full gaming den setup, including gaming hardware and furniture from the IKEA x ROG collection. The second place team will get a £3000 prize, while the third place team will get a £1500 prize.
The IKEA x ROG gaming furniture range launches in the UK on the 1st of October. Discuss on our Facebook page, HERE.
KitGuru Says: If you've got a squad that regularly plays Rocket League together, then this is a good chance to earn some money. Will any of you be entering the tournament qualifying round?