Kingdom Come: Deliverance is perhaps the most surprising game of the year so far. After a successful Kickstarter campaign, the game launched this year with incredibly deep mechanics and a great story to boot. Now over the course of the year, we'll be getting several expansions.
Last week, the team behind the game unveiled its DLC roadmap, promising three new story DLCs this year, with an extra one coming in 2019. There will also be a few free updates adding some new features to the game, including a hardcore mode, a tournament mode, and mod support.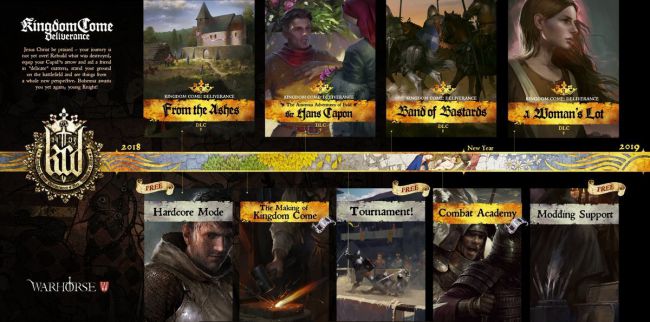 From the Ashes will be the first story DLC and will see Henry in control of an abandoned village with the goal of building it back up. We'll get our first look at this during E3 in June.
The Amorous Adventures of Bold Sir Hans Capon and the Band of Bastards DLCs will also add new story content this year, though not much is known about these expansions just yet. The story will presumably be wrapped up next year, with the launch of a fourth expansion called 'A Woman's Lot'. If you backed the game on Kickstarter, then you'll end up getting this expansion for free.
KitGuru Says: Kingdom Come: Deliverance is one of my favourite games of the year so far. With that in mind, I'm very much looking forward to seeing extra content land over the next 9 months or so. Have many of you been playing Kingdom Come? Will you be jumping back in for these expansions later on?