One of Microsoft's big features for backwards compatible games on Xbox Series X/S consoles has been Auto HDR, enabling High Dynamic Range across a number of SDR-only games. Now, PC gamers are also going to benefit, with Microsoft preparing to enable Auto HDR for over 1,000 PC games.
Auto HDR will be enabled in both DirectX 11 and DirectX 12 games. DirectX Program Manager, Hannah Fisher, explained the benefits of Auto HDR in a developer blog post:
"While some game studios develop for HDR gaming PCs by mastering their game natively for HDR, Auto HDR for PC will take DirectX 11 or DirectX 12 SDR-only games and intelligently expand the colour/brightness range up to HDR. It's a seamless platform feature that will give you an amazing new gaming experience that takes full advantage of your HDR monitor's capabilities."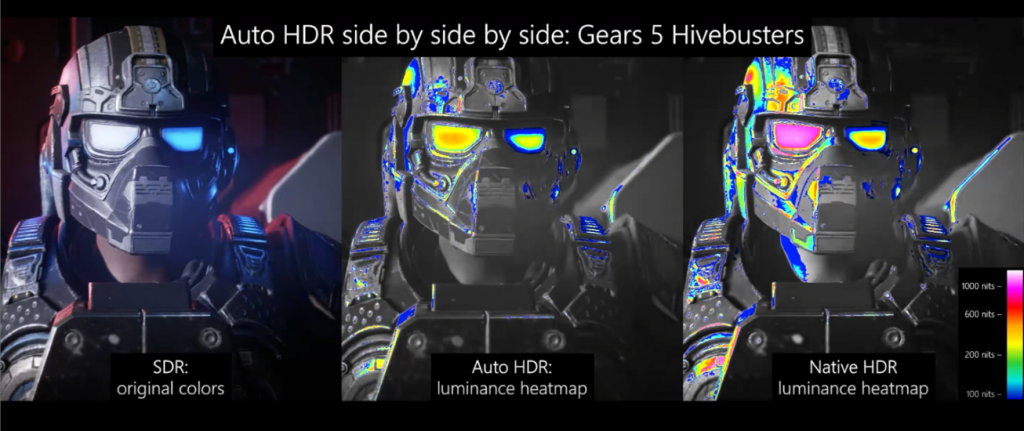 In an example image (seen above), we can see how Auto HDR impacts the luminance in a seen from Gears 5. Of course, Gears 5 already has native HDR support, so while Auto HDR doesn't bring the same level of colour detail, it gets quite close. In games that don't support HDR at all, Auto HDR can make an impressive difference.
Currently, Auto HDR is in preview, available to Windows Insider build testers. Since the feature is still in testing, there are some bugs to work out and there will be additional optimisation, as Auto HDR does use some GPU compute power. Just a few games support the featue for now, but as testing continues, more games will be added, with plans to enable Auto HDR across the top 1,000 DX 11 and DX 12 titles.
Discuss on our Facebook page, HERE.
KitGuru Says: If you have an HDR-capable monitor and happen to be a Windows Insider, then this is worth checking out. Auto HDR works well on the Xbox Series X, so it will be interesting to compare that experience to the same feature on PC.