Star Wars Battlefront was announced all of the way back in 2013, since then Disney has made a lot of changes to the official Star Wars canon, throwing a lot of it out of the window. Now we have our first look at the new official time-line of Star Wars events and where the upcoming Battlefront game will fit in to that.
The new Star Wars timeline kicks off with the Phantom Menace and Attack of the Clones. After that are the events of The Clone Wars TV series followed by an upcoming novel titled 'Dark Disciple'. Then we have Episode III: Revenge of the Sith, followed by several more novels and the Star Wars: Rebels TV series.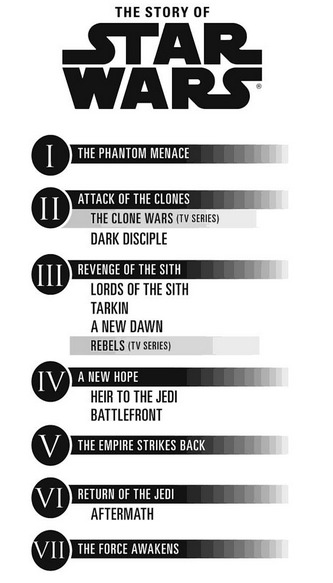 As you can see, Battlefront takes place after the events of A New Hope but before Empire Strikes Back. Going off of this information, it is likely that we will see many of the original movie characters appear in the new Battlefront, although we don't know how much of the game will directly tie in to the films.
Aside from that, we know that there are around twenty stories set to be told leading up to the release of The Force Awakens at the end of this year. Star Wars Battlefront will launch at a similar time. EA also recently confirmed that we will be getting our first look at some gameplay next month at the Star Wars Celebration event in the US.
Discuss on our Facebook page, HERE.
KitGuru Says: So there you have it, the official Star Wars canon timeline has been set, with Battlefront set to take place between A New Hope and the Empire Strikes Back.