Star Citizen's annual convention kicked off this weekend and as usual, Cloud Imperium Games had a ton of exciting announcements lined up for the occasion. Optimisation and tech changes are coming to further improve the game, which will aid in the release of new story missions, a new game mode, new planets and new combat mechanics.
There is a new gameplay two-part demo video (part 1, part 2) that shows off Star Citizen's newest planet 'microTech', an icy world primarily covered by snow and mountains. The planet's first landing zone is called 'New Babbage' and a new mission will be playable here next year. As we can see in the demo, this mission will mix ship and in-person combat. The demo also introduced us to non-lethal takedowns and new stealth mechanics, giving players more choice in how they approach missions. Stealth/non-lethal takedowns and the microTech planet are arriving with Star Citizen version 3.8 next month, with the New Babbage landing zone coming in 2020.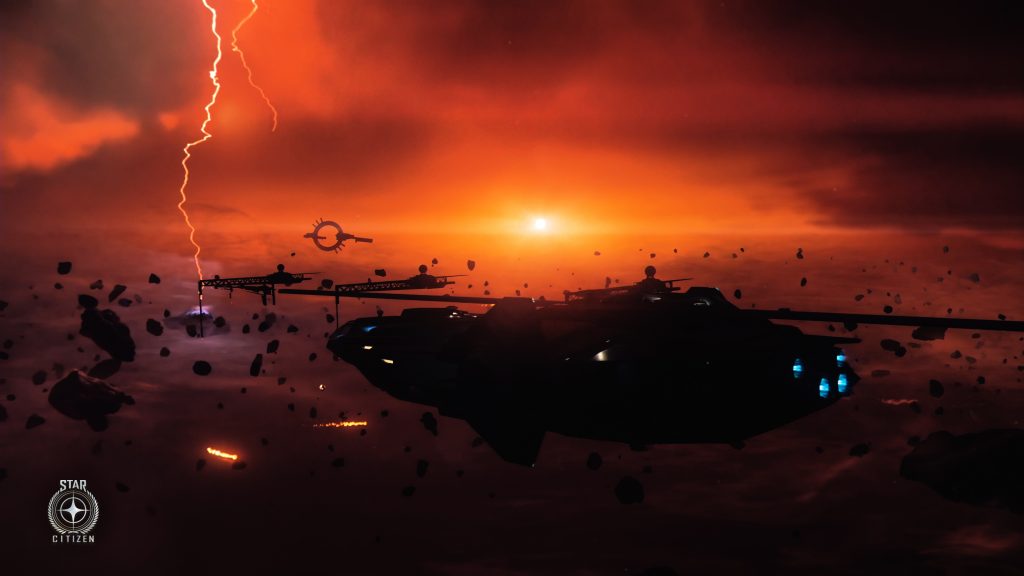 There is also a new PvP mode coming to Star Citizen called 'Theatres of War'. This mode is like a combination of Arena Commander and Star Marine, with two 20-player teams battling it out in the air and on the ground while trying to maintain control of points on the map. This new mode will also explore Star Citizen lore by re-enacting famous battles.
In terms of new tech, Star Citizen is getting a new dynamic weather system, which generates weather affects across all planets in the game. So you can expect storms, blizzards, gusting winds etc to add more variety during exploration and missions. You can see the system in action briefly during the microTech gameplay demo, as a blizzard starts to form during an escape sequence.
The next version of Star Citizen's procedural generation for planets is also coming next month. The new upgrade will increase planet diversity across the universe. This new tool will be used for all future development due to the impact it has on productivity. Developers were able to apply changes to every planet and moon in the game in two months, whereas previously that process would take two years.
As part of patch 3.8, the game will also be getting a system called 'Quantum', which is a new back-end/server-side feature that analyses the many simulations going on in Star Citizen and allows the developers to customise the player experience at a faster rate without eating up huge amounts of computing power. Server-Side Object Container Streaming (SOCS) is another performance-saving system. SOCS aims to provide significant performance improvements for all players by dividing the Star Citizen universe up into various 'object containers', reducing the need for your PC to simulate everything else going on in the game's universe. This new feature, combined with upcoming 'server meshing' will allow for higher performance and higher player counts, with the developers hoping to enable thousands of players to share the same instance.
Finally, next month's big patch will also introduce 'Platform Persistence', which will result in fewer player progress wipes during development. Essentially, CIG wants players to be able to invest more time on game progression without worrying about frequently losing progress.
KitGuru Says: Star Citizen might not have a release date yet, but patch 3.8 does seem to introduce a ton of improved systems to not only grow the game and boost performance, but to also speed up development. Hopefully we'll get even more good news over the course of 2020. In the meantime, if you want to give Star Citizen a try, there is a free fly period going on right now until Dec 5th, granting free access to all in-game ships and current content.