The Steam Summer sale is a well-established tradition at this point and with everything on the store being cheaper, it's a great time to try out some new games that you may not have bought at full price. Unfortunately, not every purchase during a sale turns out to be a smart one, as we can see via Steam's Support stats, which show requests skyrocketing since the start of the sale, with 90 percent of requests being refunds.
During an average week, Steam will receive somewhere between 70,000 and 100,000 support requests per day. However, during the sale, this has drastically increased. So far, the peak has been 315,000 requests in one day but that number has trickled down to around 230,000 requests yesterday. At the time of writing, Steam has received 205,773 refund requests in the last 24 hours alone.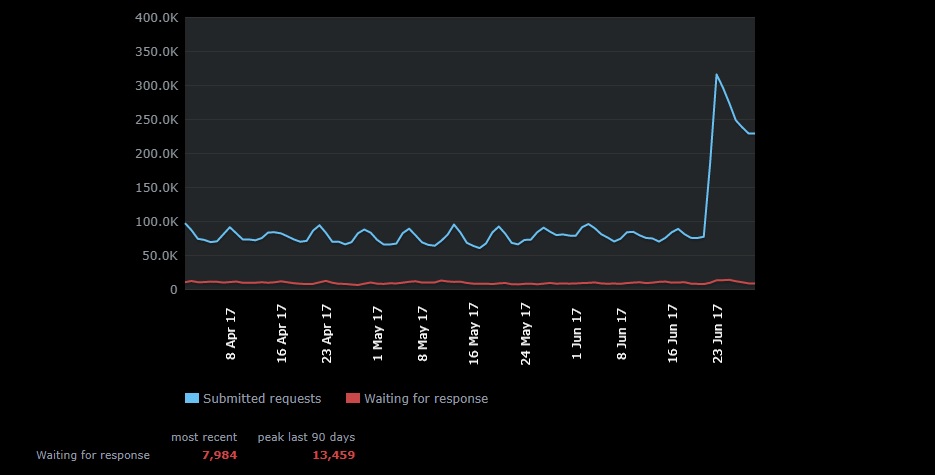 Unfortunately the Steam Stats page doesn't show us further details, like the most refunded game. However, it does show that Valve's support system has improved quite a bit, with the average response time for technical support sitting between 2.37 hours and 12 hours. Meanwhile, refunds are typically processed within an hour or two at the most.
This all ties in nicely to a story from yesterday, when Rust creator, Garry Newman, revealed that his early access game has received 330K refund requests over its lifetime, accounting for around six percent of the game's total sales.
KitGuru Says: I have had to refund games bought in a sale before. For instance, I picked up Devil May Cry 4: Special Edition during last year's sale, only to find that the game would crash to desktop after attempting to start a new game. Have you guys picked up many games from the Steam sale so far? Have you had to take advantage of the refund system at all?