While we've known for a while that the Steam Summer Sale is just around the corner, it looks like Valve did have a surprise sale up its sleeve to take place beforehand. Last night, the Steam Spring Cleaning event went live, encouraging Steam gamers to explore their backlogs to make way for some new games.
Valve has added various community-driven 'side quests' to Steam sales over the years. The Spring Cleaning event is a little more complicated. There are five trophies players can earn during this event. These are obtained by completing tasks like playing a game that you purchased within the last six months, or playing a game recommended by a curator you follow. Other tasks include playing the first game you added to your Steam account, playing a game that you put less than an hour into.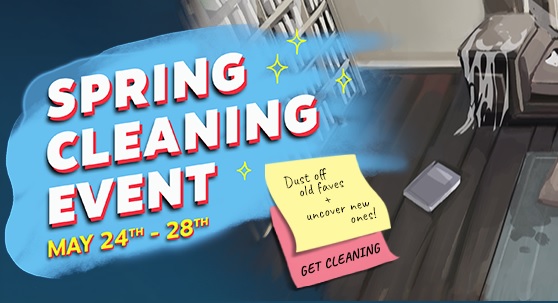 There are also daily tasks that refresh each day. Today's tasks include trying out a game that is currently free on Steam, playing a random game picked from your Steam library, or playing a game that you've purchased but not tried out yet.
Games like Borderlands 2, Tyranny, Shadow of Mordor, Dead By Daylight, Cities Skylines and Dirt 4 are all free to play until the end of this week.
The Spring Cleaning event is very much more about playing games you already own, rather than buying new ones. With that in mind, while there are a bunch of deals currently live, it's not as big as a usual sale. Standout discounts include the Assassin's Creed series, Arizona Sunshine (VR), Black Desert Online and more.
KitGuru Says: The Steam Spring Cleaning event is less of a sale and more of a push for gamers to try out some games in their backlogs. It seems like a fun idea in my opinion, although I probably won't end up chasing all of the trophies.