In the first person shooter genre, the Battlefield franchise has historically been one of the most prominent. Unfortunately, recent entries have been met with depreciating amounts of enthusiasm. Battlefield 2042 has had its fair share of issues, and so 6 months from launch, just 1000 people are playing it on Steam.
Battlefield 2042 launched in late 2021, three years after the release of the previous entry, Battlefield V. After spending so many years in World War II, fans were looking forward to exploring the near-future world of Battlefield 2042.
Unfortunately, the game launched in a messy state, with bugs, performance issues, and connection problems galore. Despite this, the game managed to amass a healthy concurrent user base, with the game peaking at 100,000 players on Steam.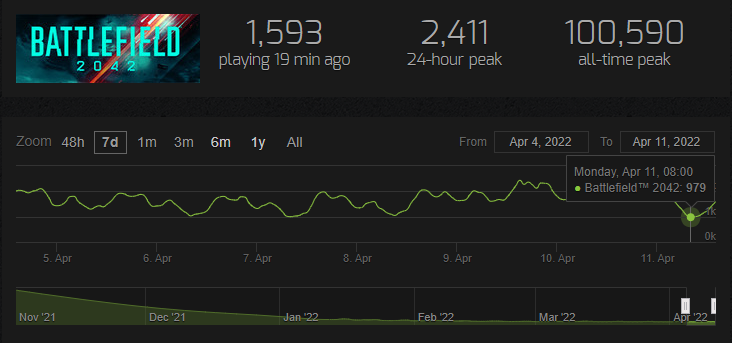 Image: SteamCharts
6 months later and fans are still unhappy with the state of Battlefield 2042 however, so much so in fact that they seem to have simply abandoned the game altogether. Yesterday, on Monday the 11th of April, 2042's concurrent Steam player count dropped to a woeful 979 players – the first time since launch that the game has dropped below 1000 players.
2019's Call of Duty Modern Warfare and Warzone helped to revitalise Activision's increasingly-stale FPS franchise. Microsoft having now acquired the company will lead to even more sweeping changes and evolutions for COD. EA and DICE need to take a page out of their competitor's books because otherwise, when the next Battlefield game is announced, few might be there to listen.
KitGuru says: Are you still playing Battlefield 2042? Is the game officially dead in your eyes? How can it be saved? Let us know down below.