Dreams is a game creation tool developed by Media Molecule of Little Big Planet fame. While that series functioned as a competent platformer in its own right, the game saw its appeal spread wide thanks to the creation tools added on top of it. While relatively rudimentary, these tools became Little Big Planet's biggest draw, with each successive entry seeing players flock to the game for its user-generated content just as much as Media Molecule's own creations.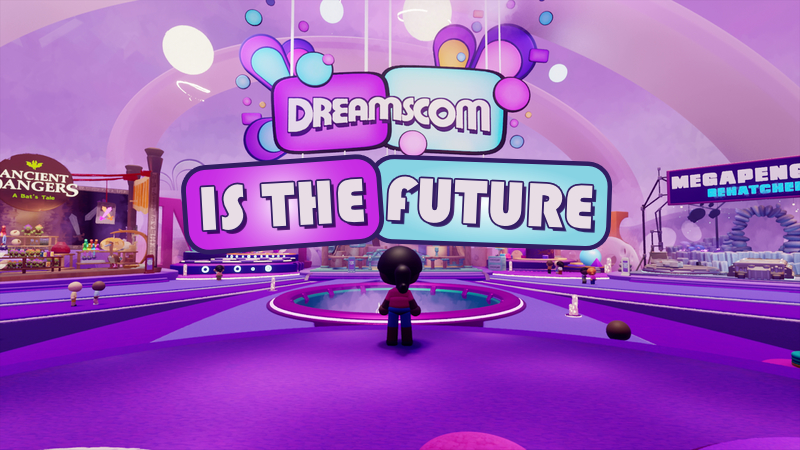 While limited to a 2.5D perspective, fans of the franchise made the most out of the games and its tools, creating all manner of things, from a demake of EA's Dead Space, to a functioning calculator. Despite the game's limitations, Little Big Planet proved that Media Molecule's fans were a truly creative bunch. This is where Dreams comes in.
In development since at least 2012, Dreams finally released to all in early 2020 after an almost year-long early access period. I myself purchased Dreams during its early access period, and while the game itself showed promise, it was clear that the potential of the game had yet to be unlocked.
For those who do not know, Dreams is a game creation toolkit which offers a bespoke campaign – however unlike Little Big Planet – Dreams was created to be a middle-person for other game developers to make their own games and experiences. I say experiences, because until now, a majority of the games offered by these community members have been little more than tech demos for an idea that one might have. While this may make the prospect of Dreams seem less enticing – especially as unlike Little Big Planet, this time the main draw of the game is the community creations – the game is functioning exactly as Media Molecule had envisioned.
This brings us to DreamsCom 2021. Starting in 2020, DreamsCom has been a week-long annual digital event within Dreams itself hosted by Media Molecule and operated like a legitimate gaming convention. Just as how one would walk around Comic-Con, Gamescom, or E3, DreamsCom offers a fully explorable convention featuring hundreds of Dreams creators showing off their games, assets, music packs, and more.
Prior to entering the DreamsCom convention centre, players are given a character creator with which they could use to make their own avatar which would then be used to walk around the centre. Following this, players are dropped into the main hall, which showcases small dioramas of what fans can expect from the core Media Molecule team over the next many months. These included the "high-score chasing, track-building adventure" 'TREN', and Ancient Dangers: A Bat's Tale: A dungeon crawler which sees players "save Scoria and Gabbro from a fate weirder than death – sleep deprivation!" These post-launch campaigns will be made available for free, adding to the pre-existing 'Art's Dream' which previously served as the game's main 'campaign'.
Just as with Dreams itself, the Media Molecule creations announced at DreamsCom served as little more than a backdrop to the main event – that being the more than 40 halls which players could roam through, each of which featured a plethora of creators and their creations.
While it would take far too long to go through every single stall, just a few of the experiences that players could witness included Appolonius' procedurally generated booth in Hall 29, which served as a tech demo for procedurally generated dungeons – a technology which other creators could drag and drop into their own worlds. Other booths allowed creators to show off their asset packs, be it music, textures, technologies or items. Some of these booths were all dressed up to look pretty, while others were basic but functional. The diversity in the presentation mimicked that observed in a real-world convention. Some players would try to sell themselves to the audience as much as possible, while others would let their work do the talking.
One booth simply listed a number of Twitch usernames, advertising various Dreams streamers and their specific niche, be it to play games, make assets or create full experiences. You then had some Dreamers who treated their booth in more traditional fashions, with their compact area being used to create a slice of gameplay or visuals used to advertise the creator's latest Dreams project. Upon entering a stall, the game's physics, music, visuals, camera controls and mechanics could all be changed, giving potential players a tease of what they can expect if they follow the creator and try out their games.
The last group of Dreamers created bespoke experiences, unrelated to any of their other works – seemingly not trying to advertise anything in particular, instead opting to simply create unique experiences for the player wandering through the different halls. Team Pig Detective is one of the biggest names to come out of Dreams so far, with Pig Detective growing to be an entire series. Showing up at the Pig Detective Booth was a digital cardboard cutout, allowing the player to take a screenshot of their character poking their head through the empty space in the cardboard where the pig's face should be.
HASSUK used their area in Hall 11 to create a fully explorable funhouse, with physics interactions, platforming and more. Again, aside from having the creator's name shown at the top, the funhouse itself appeared to be a bespoke experience crafted specifically for Dreams.
Some booths were made by a single person, others were made by whole teams of people – some big enough to warrant the creation of a mini-studio. You have some booths offering a meta narrative, with AI characters seemingly aware of their presence at DreamsCom. Other booths were nearly completely empty, with the Dreamer adding nothing but a sign to say that they ran out of time before the deadline in order to set up the booth, apologising to the passerby.
One of the weirdest booths offered no information, and simply had a character standing behind a podium with the words Toronto Canada written on it and a massive flag behind him as he simply rotates around to face you, no matter your location within the hall – all the while waving silently.
For those who were unsure where to start, Media Molecule themselves produced a 27 page pamphlet advertising Dreasmscom and some of the event's more interesting booths. In between pages, food recipes; mini games and puzzles can also be found, fleshing out the pamphlet and making the entire event feel so much more real.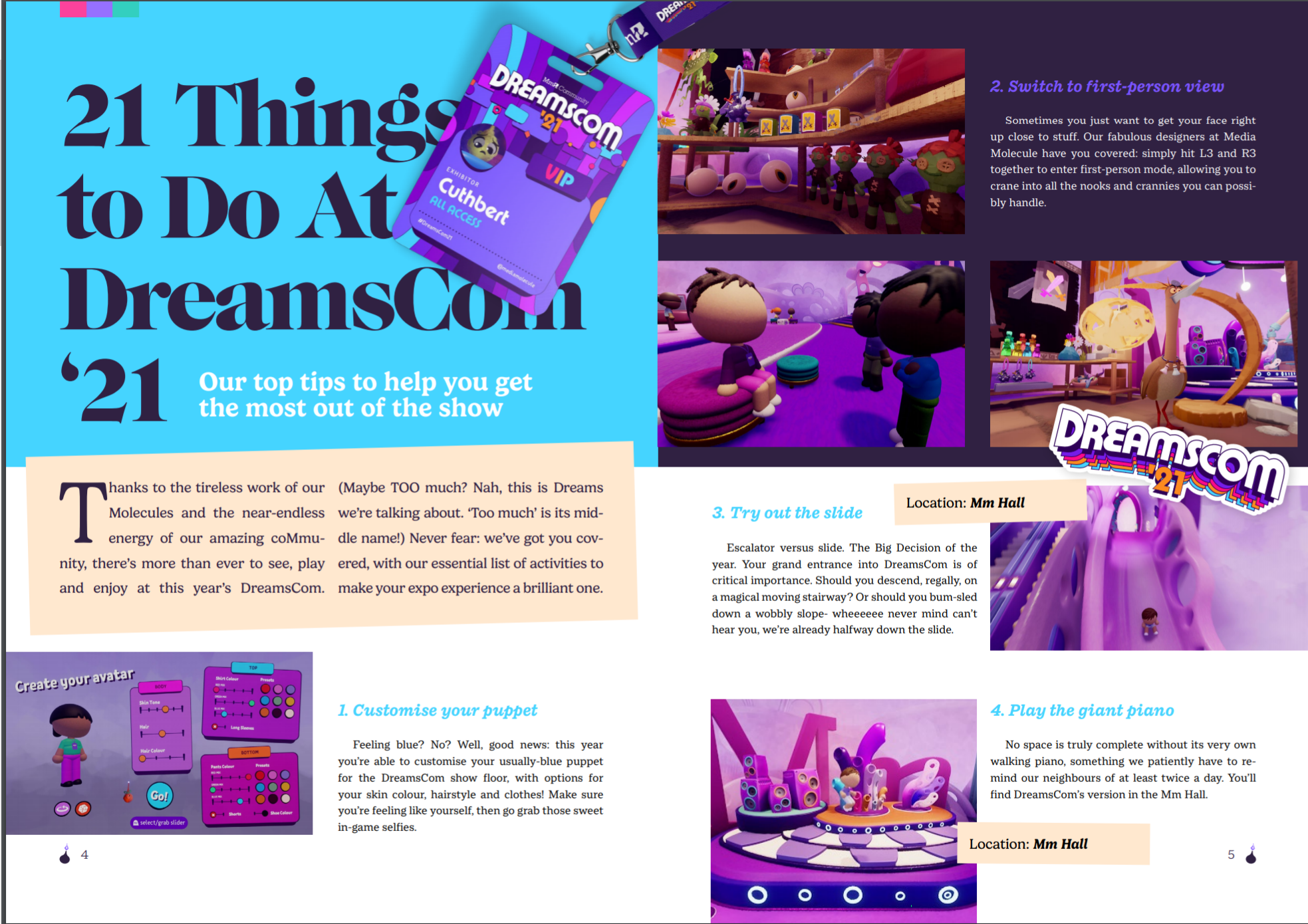 All of this is to say that DreamsCom was a surreal and wholesome look at a community event which offered the perfect combination of size, developer support, and creativity to make it all work. DreamsCom was doubly effective during a time when most of the world's conventions were halted due to a global pandemic. With some companies succeeding and some failing in offering suitable replacements to the convention experience, Media Molecule and Dreams managed to capture the essence of the physical experience, while giving a platform for creators of all kinds to shine.
While the title of this column may sound hyperbolic, Dreams has given thousands of people an accessible and cheap community-focused game creation toolkit which has allowed for video game enthusiasts to experiment with making games, and creating a supportive environment within which to do so. While It is unlikely that Dreams itself will become the next big game engine rivalling the likes of Unreal and Unity, the tools given to the players, and the support and spotlight provided by Media Molecule and DreamsCom means that it is entirely possible that the next Shigeru Miyamoto, Hideo Kojima, Neil Druckmann, Tim Schafer, Amy Hennig, Lena Raine, Yoji Shinkawa, Troy Baker, Ikumi Nakamura, Ashley Johnson or Mick Gordon could have made their start in Dreams – and the creativity shown off at DreamsCom proves that the future of the video games industry is in good hands.
Discuss on our Facebook page HERE.
KitGuru says: Have you tried out Dreams? Do you prefer creating or exploring games? Will you take part in DreamsCom 2022? Let us know down below.