Mark Zuckerberg has been attacked by a Norwegian newspaper and many international commenters, for what many people see as outright censorship of an iconic photo from the Vietnam war. He has been accused of abusing his power and making Facebook limit freedoms with its aggressive editing of certain images.
Perhaps the most famous photograph of the Vietnam war depicts nine year old Phan Thi Kim Phuc running naked down a road after suffering horrific burns from a South Vietnam napalm attack. Facebook however refuses to allow the photograph to be published in its unedited form, claiming that the girl's nudity is to blame.
Norwegian writer Tom Egeland recently published the images along with others, as part of a post about "seven photographs that changed the history of warfare." The post was taken down and his account suspended. When Norway's most read newspaper, Aftenposten reported on the coverage, linking the story with the image in question on its Facebook, the social network contacted the company and demanded it either remove the image or pixelate it.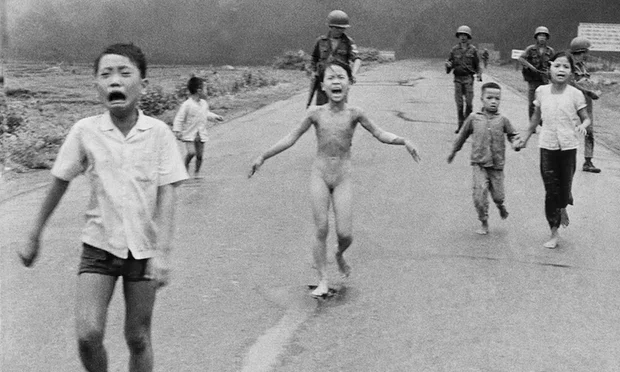 Source: Nick Ut/AP
Aftenposten has since lambasted Facebook and Mark Zuckerberg, for being unable to tell the difference "between child pornography and famous war photographs." The editor of the newspaper said that Zuckerberg himself was abusing his power as the most powerful editor in the world, by censoring images without "good judgement."
Moving forward, the publication wants to see Facebook introduce new content standards for different geographical regions and give more leeway to news publications and editors for the kind of content they are allowed to publish.
As The Guardian explains, this debate comes at an important time in Facebook's evolution. As it continues to build its platform into a singular online entity handling news, video and social interactions. It wants the world to access the internet through its portal, which has seen it receive heavy criticism for limiting the world's view of the online world, especially to new internet users in developing nations.
But it's the automation it drives towards which has many more concerned. Much like the lack of common sense shown in the censoring of "Napalm Girl,"  Facebook recently showed a lack of human oversight with its news, which is now run entirely by an AI algorithm.
Discuss on our Facebook page, HERE.
KitGuru Says: Much like breastfeeding images and unpopular opinions, I'm betting this is fall out from people unaware of the significance of the image being trigger happy with the report button, but still when the issue was raised, you'd imagine Facebook would take more of an educated tack with such an image.