Earlier this month, Microsoft announced Windows 10X, a lighter version of the OS designed for dual-screen devices, like the Surface Neo or other 2-in-1 tablets. The new OS isn't set to begin rolling out until 2020 but an internal document leak has shed some more light on Microsoft's plans. 
Two leakers over on Twitter were able to share official details from Microsoft's internal servers. WalkingCat got the ball rolling by posting a password-protected link to a Microsoft website while _milincic_ posted screenshots of documentation from behind the link. Access to the site has since been closed off but as ZDNet reports, one interesting tidbit found is that Windows 10X is being designed for "both clamshells and foldables", so Microsoft's plans are a bit broader than publicly stated.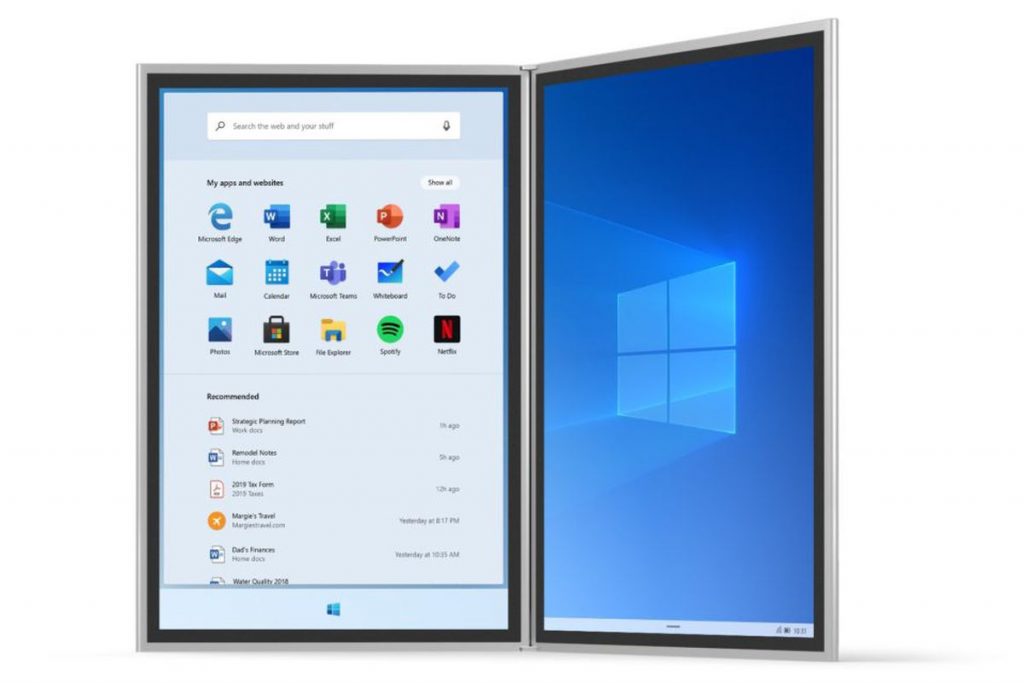 The Windows 10X start menu is known as the 'Launcher' which will house your favourite apps and show most recent documents so you can pick up where you left off. Users will be able to create folders and groups of apps by stacking them together. There will also be a quick settings menu providing quick toggles for data/WiFi connections, Bluetooth, display rotation lock, Do Not Disturb mode, Battery Saver and other useful tools while working on the move.
The taskbar on Windows 10X will be the same for clamshell laptops and dual-screen devices. You will be able to pin applications or frequently used websites here and launch them directly. There will also be icons for the Start menu, task switcher and quick actions. Microsoft hopes to provide a series of 'levers' that can be pulled to customise the taskbar to better suit clamshell or dual-screen device use. So a dual-screen device will be able to have more taskbar pins, or more recently used apps etc.
Microsoft has previously attempted a lighter version of Windows 10 for clamshell laptops in the form of Windows 10 S. However, this locked down version of Windows didn't really take off. Assuming Microsoft's plans here don't change, then Windows 10X could replace S as the go-to solution for cheaper laptops and devices aimed at students, while also competing in the higher end on dual-screen devices. The OS would function similarly across both, with a few more enhancements enabled for devices with more screen space.
Windows 10X is currently due to release in 2020 and will arrive first on the Surface Neo, with devices from ASUS, Dell, HP and Lenovo to follow.
KitGuru Says: With 5G on the horizon and dual-screen portable devices beginning to get a big push, we can expect to see a lot of Windows 10X devices over the course of 2020. To me, Windows 10X is shaping up to be a nice middle ground between desktop productivity and the simplicity of a smartphone/tablet operating system. Now we'll just need to wait and see how well it all comes together.