The iPhone 6 and 6 Plus have got off to a good start in China since last week but those attempting to connect to iCloud may face a nasty surprise as last night, the Chinese firewall began blocking all local connections to iCloud.com, redirecting those to a dummy site designed to look just like Apple's login page.
Those using Firefox or Chrome will see a warning page initially before continuing to the fake iCloud site and giving the Chinese government your login details. However, others using Qihoo, the most popular browser in China, will be sent straight through to the dummy site with no warning, stating that the page they are visiting is not run by Apple.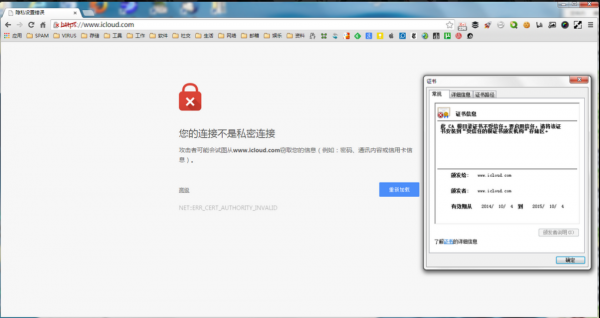 A similar login phishing attack is currently being used on those attempting to access Microsoft's login.live.com site, the company's gateway for all account logins.
These attacks are taking place at the 'Great Firewall' level, meaning that this is likely the doing of the Chinese authorities in an effort to harvest usernames and passwords. Great Fire also pointed out traceroutes and wirecaptures to verify the attacks.
If a user logs in to the dummy site, it will give the attackers complete access to the user's account including photos, text messages, and emails stored on iCloud. Chinese residents can still get on to their Microsoft or iCloud accounts unharmed by using an unblocked VPN to circumvent the firewall.
Discuss on our Facebook page, HERE.
KitGuru Says: This is effectively a nationwide phishing scam. Chinese officials have yet to comment on the situation so we don't have the full story yet but it will be interesting to learn what prompted the authorities to take such a drastic measure to spy on the public.
Source: Great Fire