Every year a lot of companies – ourselves included – give away some great prizes to loyal fans around the Christmas period, and be quiet! is one of the most altruistic of the bunch. Once again it's launched its advent calendar initiative, giving away great gear every week. This week it's a £950 gaming PC and Just Cause 3 bundle – who doesn't want to win one of those just before the holidays?
It's been active for a couple of weeks already and has seen a lot of great prizes go out to consumers, but with just over a week to go until Christmas, there's still plenty to win. The third advent window – now open – has five great prize packs up for grabs:
Prize package 1: 1x be quiet! complete PC system* (value 1,300€) + 1x Just Cause 3 PC game and merchandising package + 1x be quiet! A4 calendar + 1x be quiet! t-shirt.
Prizepackage 2 and 3: 1x Silent Base 800 of choice + 1x Just Cause 3 PC game + 1x be quiet! A4 calendar + 1x be quiet! t-shirt.
Prize package 4 and 5: 1x Silent Base 600 of choice + 1x be quiet! A4 calendar + 1x be quiet! t-shirt.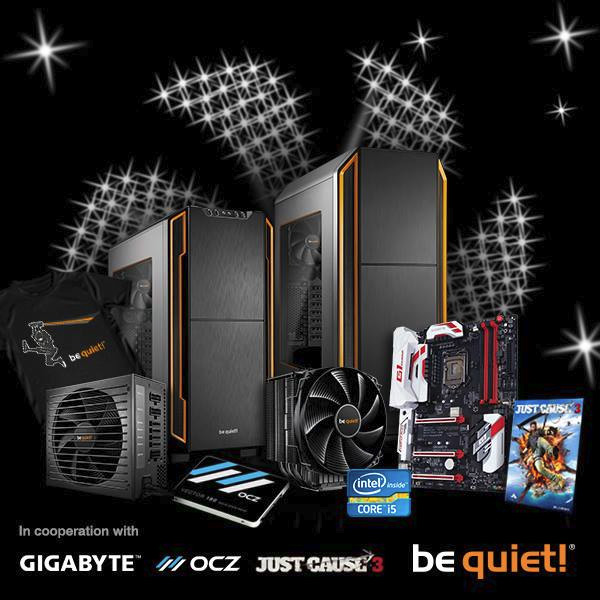 The be quiet! gaming PC comes packing an Intel i5-6600K, a Gigabyte Z170X motherboard with 16GB of DDR4, a Gigabyte R9 390 G1 graphics card and an OCZ Vector 180 240GB SSD, with a terabyte of additional HDD storage space. That's a really nice gaming system, which even comes with a copy of Just Cause 3 so you have something to play right away.
These prizes are all available now, and all you have to do is answer a simple question to be in with a chance of winning.
Head over to the Advent page to take part, and keep checking back as a new prize pack goes up for grabs next Sunday.
Discuss on our Facebook page, HERE.
KitGuru Says: Good luck guys, we're rooting for you.