Samsung has been pretty hot and cold when it comes to launching its own Bixby-powered smart speaker, once remarking that it would be unmarketable when compared with Amazon, Google and Apple's iron grasp. Now, Samsung has made it a reality, announcing at the Galaxy Home with a more "conversational, personal and useful" Bixby assistant.
Competing more with high-end smart speakers like Apple's HomePod, Samsung is already promising better audio quality than Amazon's Echo and Google's Home products. The cylindrical design of the Galaxy Home is propped up on three metal legs, helping its 6 high-range speakers and subwoofer to direct sound all over the room.
There aren't too many details on the Galaxy Home's internals just yet as Samsung is saving the Galaxy Home for its California-based Developer Conference on November 7th-8th. We do, however, get a snippet at just how interactive Bixby is with the new device.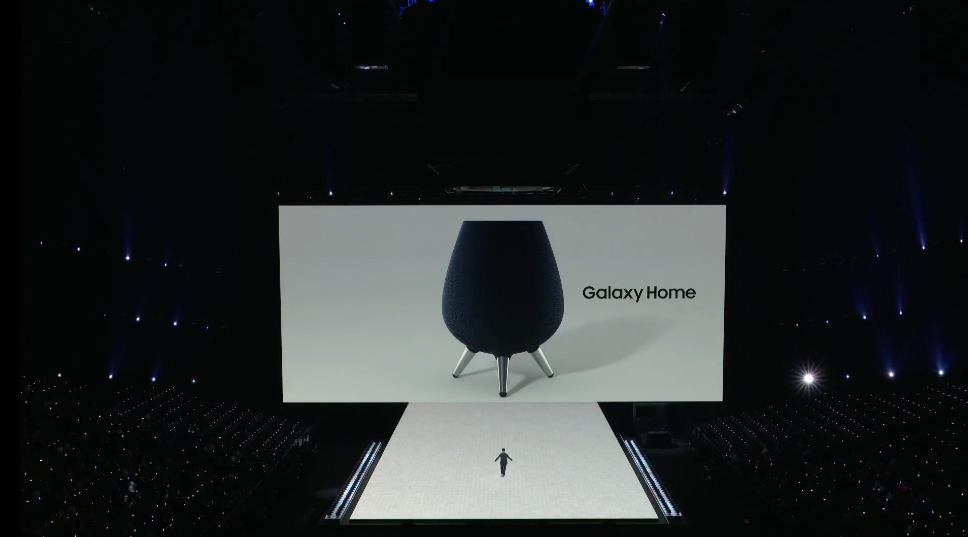 Utilising 8 directional microphones, the smart speaker should be able to react to commands given from almost anywhere in the room, activated with the simply phrase of "Hi, Bixby". Specific to the Galaxy Home, users can make use of SoundSteer, enabling the AI to locate where they are in a room and specifically direct the sound their way.
Beyond the smart speaker, Bixby-enabled devices everywhere will be able to enjoy a more intricate voice assistant that now remembers at what point the conversation has been left, allowing the user to ask follow-up questions without having to repeat themselves. This improved functionality expands to user preferences, with Bixby placing more relevant results to the user at the top of the list. Lastly, applications don't need to be installed to be accessed by Bixby, as the assistant pulls up any and all relevant information in a preview, hassle free.
To coincide with the announcement of the Galaxy Home, Samsung has announced its partnership with Spotify to ensure a seamless cross-platform experience. Now baked into the setup experience of Samsung devices, the partnership seems more of an evolution on Spotify Connect, allowing all Samsung devices including smart TVs, the newly announced Galaxy Note 9 and, of course the Galaxy Home to link to one another. Sadly, this is unlikely to work with Samsung's Galaxy Watch given its lack of speakers. This does mean that Spotify will also become the default music provider for Bixby, with the two companies planning more features moving forward.
KitGuru Says: The Galaxy Home looks like an interesting device, and Samsung couldn't have chosen a better partner than Spotify to try and gain footing in the market. It is entirely hinged on Bixby, however, which might struggle against lower-end market devices powered by Amazon's Alexa and Google Assistant, let alone Apple's Siri. What do you think of the Galaxy Home?