The RHA MA750 Wireless ships in a very simple but easy-on-the-eye box, with a picture of one ear bud on the front.
Inside, a wealth of accessories are included. We find: 2x product manuals, 1x USB-C cable, 1x carry pouch, and then no less than 9 pairs of replacement ear tips, including 2 foam pairs.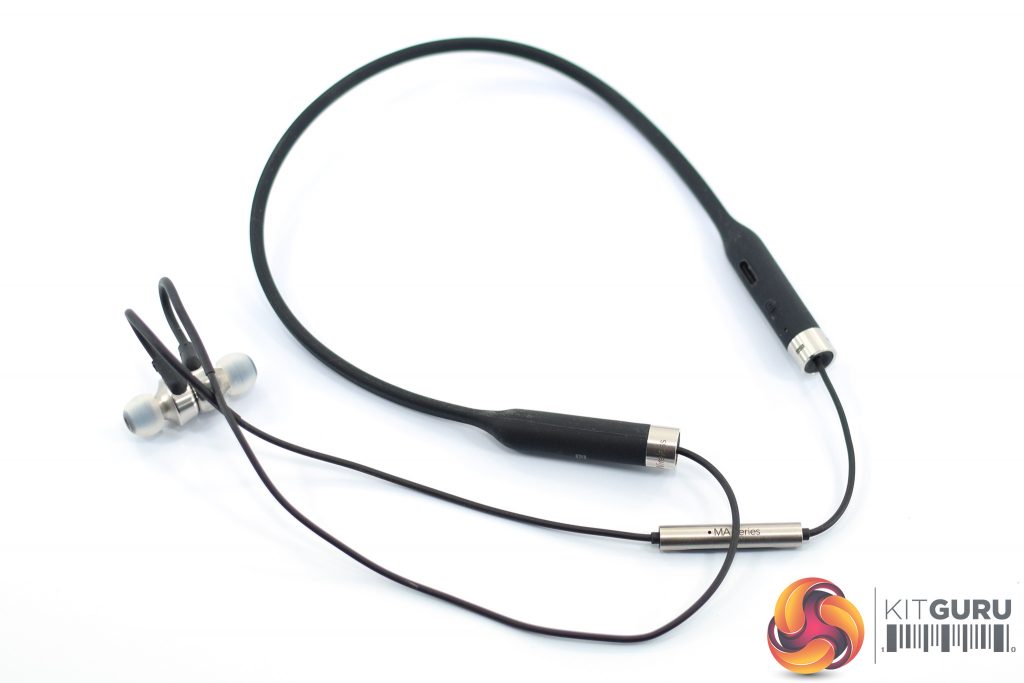 Getting our first look at the device itself, my attention was immediately drawn to the amount of metal RHA has used – stainless steel is found in almost every area and it gives the MA750 Wireless both a premium look and feel.
It also becomes obvious that the device makes use of a rubber neckband, which RHA calls a 'SecureFlex' cable. The MA750 Wireless as a whole is also impressively light at just 41g.
Moving on, at the base of each side of the neckband, we find two little protruded nubs, each capped with stainless steel. Presumably, each little nub holds a battery cell. The protrusion on the right-hand side of the neckband is also home to the power input – for which RHA should be commended for using a USB-C connector – as well as the power button and a status LED.
A small in-line controller is also fitted to the right-hand ear piece's cable. This is again plated with stainless steel, and houses volume control as well as one 'universal' button which can be used for play/pause or for answering calls.
Lastly, coming to the ear buds themselves, these are again finished with stainless steel and they look great. The steel is also magnetised so the two earpieces can snap together.
Each earpiece also sports an integrated ear hook as the MA750 Wireless is designed to loop over the back of your ear and then into the ear canal, providing a snug fit.