Rumours have been pointing to Google creating its own Smartwatch for some time now, supposedly in conjunction with current Nexus maker LG, but like most devices coming out today, details have leaked before the announcement.
This recent leak has come from none other than EvLeaks, a common name when it comes to mobile tech leaks. According to them, Google's upcoming watch will feature a square shaped 1.65 Inch screen with a 280×280 resolution, just a bit lower than Samsung's Galaxy Gear 2 which has a  1.63 Inch display but a 320×320 resolution. Other specifications include 512MB of RAM and 4GB of internal storage, there is no mention of an integrated camera and additionally, there isn't any information on the CPU inside either as Google and LG are still thinking it over: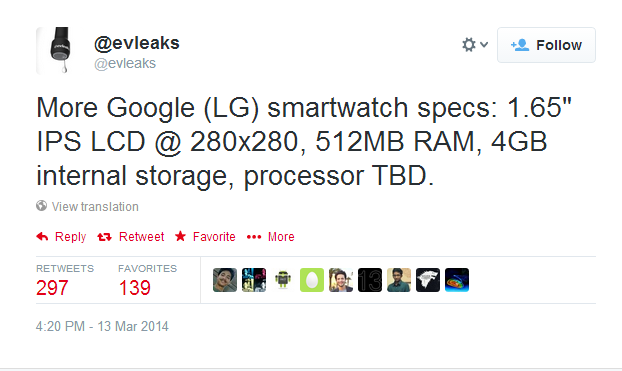 Google's Nexus smartwatch is said to be revealed at this year's Google I/O which will take place on the 25th and 26th of June. It seems like every mobile device creator is currently working on a smartwatch, that said, it will be interesting to see how Google's version pairs with its own wearable glasses.
KitGuru Says: A Nexus smart-watch makes sense, Samsung currently has a hold on the market as it is arguably the biggest company with one already out, on top of that, the Galaxy brand has grown very strong over the last couple of years. Other device makers, including Google, will want to get in to the arena as soon as possible.