Amazon, the world's largest online store, is working on a new hardware project that is supposed be a bigger revolution than Kindle e-book reader or Kindle Fire media tablet. What will it be? The only thing known is that it will deliver media content to Amazon's customers and is currently code-named "V1". Previously Amazon was reportedly working on a smartphone, a set-top-box and some other projects.
"We are working on a new revolutionary V1 product that will allow us to deliver Digital Media to our customers in new ways and disrupt the current marketplace," Amazon wrote in an exclusive event invite at the end of 2013 that was republished by Boston.com. "We believe this new product will be even bigger than Kindle!"
Being one of the world's largest suppliers of media content in general, Amazon could theoretically benefit from almost any hardware product that has access its vast library of books, music tracks, movies, video games and other. Since the company needs to offset declining sales of packaged media, it may offer various types of hardware that simplify purchase of digital content. A logical product for the company is a smartphone, which has long been rumoured, but in the current case, the code-named "V1" product does not seem to be a handset.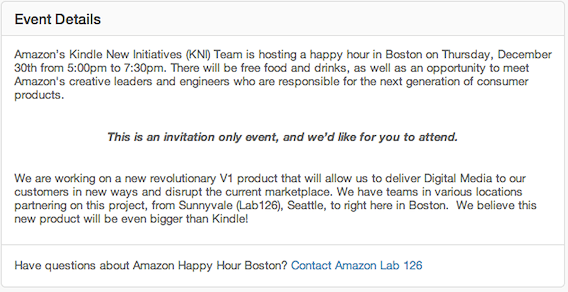 As reported last year, the rumoured smartphone is essentially a tip of an iceberg since the company has the so-called Alphabet Projects, under which it is developing projects A (smartphone), B (set-top-box), C (audio-streaming device) and D (high-end smartphone with stereo-3D display). It is logical to expect Amazon's mysterious Lab 126 to work on other projects like E, F, G, which may be completely unexpected pieces of hardware.
Amazon did not comment on the news-story.
KitGuru Says: Amazon is becoming a company that is more mysterious than Apple. When Steve Jobs was chief executive of Apple, almost no details leaked about the company's products until their release, which added "magic" to introductions. Looks like Jeff Bezos follows a similar approach, which helps to generate a lot of interest (and even legends!) around the company. The only problem here is that Amazon continues to sell only e-book readers and tablets two years after the first Amazon smartphone-related rumours emerged…