Nokia Corp. on Monday introduced its first smartphones based on highly-modified Google Android operating system. Designed for customers in budget, Nokia X-series handsets feature Windows Phone-like user interface, Microsoft services, Nokia maps, navigation and so on.
The family of Nokia smartphones based on Google Android OS consists of three models – X (4" display, 512MB RAM, 3MP camera), X+ (4" display, 768MB RAM, 5MP camera) and XL (5" display, 768MB RAM, 5MP camera) – and relies on dual-core Qualcomm Snapdragon S4 application processors. All smartphones feature 800*480 screen resolution, 4GB of onboard NAND flash memory, ambient light sensor, accelerometer, proximity sensor, 2G/3G connectivity, Wi-Fi, two SIM cards and so on. The smartphones feature unified design with similar buttons: volume keys, "back key" and lock key.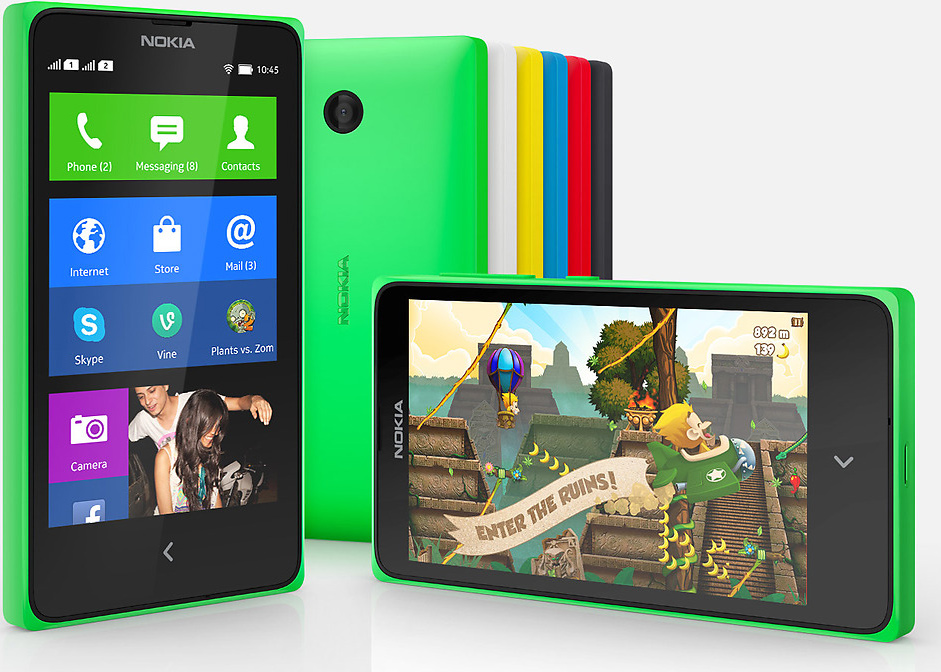 The Nokia X family smartphones do not come with pre-loaded Google Play app store, but are compatible with Nokia's own store where specially developed applications for Nokia X are sold. Still, owners will be able to access third-party software stores as well. The company specifically tailored Android user interface to give a taste of Windows Phone and unify GUI across different Nokia lineups.
Nokia X smartphones come with Here maps, Nokia MixRadio for free music streaming and downloadable playlists, Microsoft OneDrive cloud data storage service subscription and one month of Skype's unlimited world subscription (allows to call landlines in more than 60 countries and to mobile phones in 8 countries for one month for free).
The Nokia X will go on sale immediately, starting at €89 and rolling-out in Asia-Pacific, Europe, India, Latin America, the Middle East and Africa. The Nokia X+ and Nokia XL are expected to roll out in these markets starting early second quarter, priced at €99 and €109, respectively.
KitGuru Says: With Nokia X, Nokia addresses the developing countries with an operating system they are familiar with and gives them a taste of Windows Phone. In theory, such strategy could work and ensure that sales of the company remain strong in case of further popularization of Android. However, with the acquisition by Microsoft going forward, it is highly-likely that Nokia X will be quietly discontinued in order to sell more Windows Phone-based smartphones.