Samsung Electronics this week said that it had started to mass produce a family of NAND flash memory devices for mobile applications that are compliant with the Universal Flash Storage (UFS) 2.0 standard. The new chips will be used for smartphones and tablets and will enable SSD-class performance on mobile devices.
The UFS 2.0 interface provides up to 600MB/s bandwidth per lane. Samsung's new UFS memory conducts 19,000 input/output operations per second (IOPS) for random reading and 14,000 IOPS for random writing, which is significantly higher than IOPS performance of most mobile storage solutions today. The UFS memory technology also features Command Queue technology that accelerates the speed of command execution in SSDs through a serial interface, improving performance in multi-task workloads. The latest lineup of UFS 2.0 memory devices from Samsung includes memory chips with 32GB, 64GB and 128GB capacity.
The new memory solutions from Samsung are even faster than eMMC 5.1 NAND chips announced by the company earlier this month, which feature 250MB/s and 125MB/s maximum sequential read and write speeds respectively.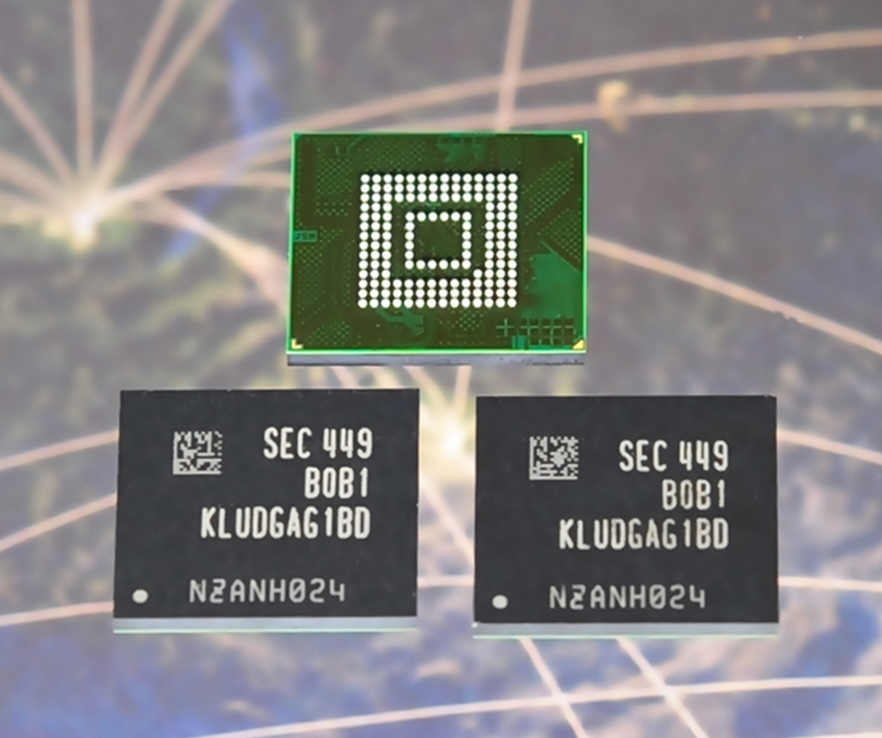 "With our mass production of ultra-fast UFS memory of the industry's highest capacity, we are making a significant contribution to enable a more advanced mobile experience for consumers," said Jee-ho Baek, senior vice president of memory marketing at Samsung Electronics. "In the future, we will increase the proportion of high-capacity memory solutions, in leading the continued growth of the premium memory market."
At present leading-edge system-on-chips for mobile devices, such as Qualcomm Snapdragon 810, already support UFS 2.0 interface and can take full advantage of Samsung's latest memory solutions.
Samsung will begin to offer its UFS 2.0-compliant NAND flash memory chips in the coming weeks or months to clients. Samsung's UFS embedded memory package, a new ePoP (embedded package on package) solution, can be stacked directly on top of application processors, taking approximately 50 per cent less space.
Discuss on our Facebook page, HERE.
KitGuru Says: Mobile devices continue to gain performance and features. The LPDDR4 memory provides smartphones and tablets bandwidth comparable to that of desktop computers. The UFS 2.0 essentially brings storage performance of SSDs to handsets and slates.