Apple is no stranger to rumours of delays in the run up to the release of its flagship devices, but recent weeks have seen claims boosted beyond the norm. Recently, Apple is said to have been exploring potential fixes for its OLED shortage but now with all three iPhones yet to hit mass production, Apple's new batch of iPhones may not ship until November.
Economic Daily News has released a report stating Apple's 2017 iPhones are yet to enter mass production. Right now, it is believed that iPhone 7S and 7S Plus will ramp up production a month later than usual, meanwhile the iPhone 8, which will feature an edge-to-edge OLED display, may not begin mass production until even later. This means that we may not potentially be able to get hold of the OLED iPhone until November.
As usual, Foxconn will be handling the bulk of Apple's iPhone assembly, though it will mainly be handling the OLED iPhone. Meanwhile some assistance will be delivered by a company known as Pegatron, which will take care of the iPhone 7S models.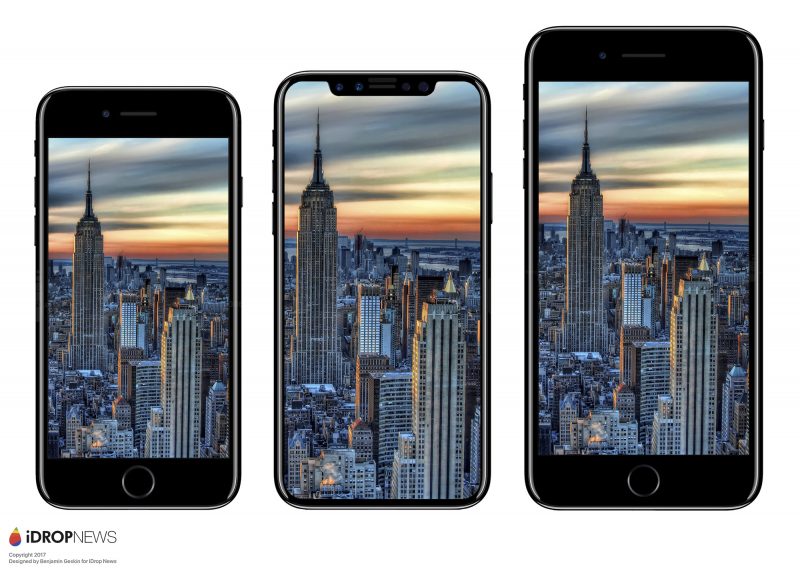 iPhone render size comparison by iDropNews
Apparently Foxconn and Pegatron have yet to ramp up to 'mass production' levels. However, reports surrounding an iPhone delay this year have been circulating for a long time now, so it may not be too surprising.
The delay has been expected, with blame being placed on low yields of new circuit boards, 3D touch pressure-sensing components as well as the OLED display. Apple has since stepped into the supply chain, leasing equipment to its manufacturing partners according to The Korea Herald.
KitGuru Says: With only 4 million units expected by the September release date, paired with rumours indicating software delays for features like the 3D front sensor and wireless charging, it looks like Apple are in for a rough year. Do you have your iPhone pre-ordered? How do you feel about the potential delay?