Last year, Apple introduced Face ID with the iPhone X. The new tech allowed Apple to maximise screen space on the iPhone by shrinking down bezels, and it looks like that same philosophy will be applied to the iPad later this year. New rumours this week are claiming that a new iPad Pro will be launching in 2018, with no headphone jack, slimmer bezels and Face ID replacing Touch ID. Now, the latest iOS 12 beta has seemingly confirmed these design changes.
The original leak comes from 'supply chain sources' speaking with Mac Otakara, which has been accurate in the past. Apparently the new iPad Pros will shrink down a little bit, losing a few millimeters in height and width. The break away from Touch ID will continue, with Face ID being implemented instead, although the current rumour is that Face ID won't work while the iPad is in landscape mode, which could end up being an issue.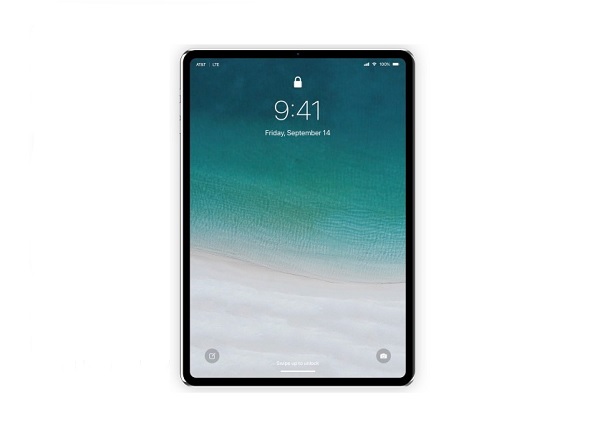 The iPad Pro's 'smart connector' for accessories will also apparently be moving from the side of the tablet, down to the bottom next to the lightning cable. This is an odd choice as the iPad Pro is often paired with a keyboard, and this could end up disrupting compatibility with the current slate of accessories available.
The final point of note is that Apple may also remove the headphone jack. This has been on the cards ever since the iPhone 7, but with this iPad potentially getting a complete face lift, it seems more likely than ever.

The folks over at 9to5mac did some digging into the latest iOS 12 beta, only to find a new icon depicting a new iPad with slimmer bezels than before. This confirms that Apple is looking to redesign the iPad Pro with much smaller bezels, although from the looks of it, there will be no 'notch' like on the iPhone X.
The new slate of iPad Pros should launch later this year, likely in October, with the same A11X Bionic processor found in the iPhone 8 and iPhone X.
KitGuru Says: I have always liked the iPad and the iPhone, but I'm still not a fan of Face ID. Removing Touch ID and the headphone jack in favour of smaller bezels and face scanning tech seems like a compromise to me, rather than a 'must have' new feature. Still, these are all just rumours for the time being, we should find out more over the next couple of months as more leaks come to light.