Last year, when Apple launched the iPhone 6 and iPhone 6 Plus, the company had a bit of a PR nightmare when 'bendgate' began making headlines. Now this year, Apple faces a new problem, which is currently being dubbed 'chipgate'. To put it simply, the A9 processor inside of the new iPhone could be made by one of two companies and performance differs quite dramatically depending on which one you get.
The A9 chips are being manufactured by TSMC and Samsung. Samsung's version uses the 14nm process, while TSMC's uses the 16nm process, which has a direct impact on temperatures and battery performance.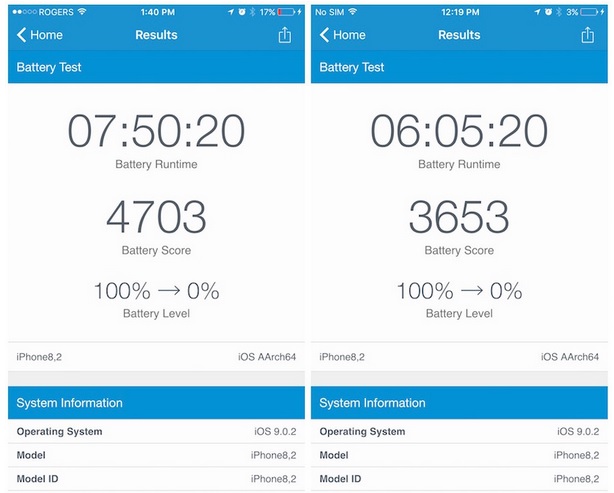 A Reddit posters benchmark findings. TSMC on the left, Samsung on the right. 
Right now, tests show that the Samsung A9 chip could have up to 20% worse battery life than TSMC's. The latter company's chip also runs cooler under load. Tech YouTubers, Austin Evans and Jonathan Morrison have released videos of their own findings on the topic, while a Reddit poster has also posted Geekbench battery rest benchmarks to show how big the difference between the two chips can be.
This news is all quite new so Apple has yet to comment on or acknowledge. The issue seems to be that not all iPhone 6s models are built the same, so those looking to buy face a lottery of sorts as there is no way to tell which chip you are going to get ahead of time.
Discuss on our Facebook page, HERE.
KitGuru Says: The TSMC iPhone runs significantly cooler and adds on almost an extra two hours in battery tests. However, it should be pointed out that benchmarks aren't always indicative of every day use. It will be interesting to see if and how Apple responds to this.