While Apple has relentlessly been shifting outside supply chains in-house, it still has to rely on its competitor Samsung for its access to OLED displays. Both companies are said to be in negotiations, with Apple trying to lower the price of the screens, which could factor into the rumoured lower prices this year's iPhones.
As reported by Digitimes, supply-chain sources note that since a third of the cost for the iPhone X came from its OLED panel, there's no surprise that Apple is wanting to cut down its costs. The high cost in particular "has been pinpointed as a key factor contributing to the lackluster sales of Apple's first OLED model."
The argument behind the request to reduce the cost comes from Apple wanting to sell more units, thus providing Samsung with a higher amount of units to produce. "Apple is likely to purchase up to 100 million OLED panels from Samsung Display in 2018, with 25 million to be used by the current iPhone X and the remaining 75 million for the next-generation OLED models to be launched in 2018 – one being a 5.8-inch model and another a 6.5-inch one," explained the sources.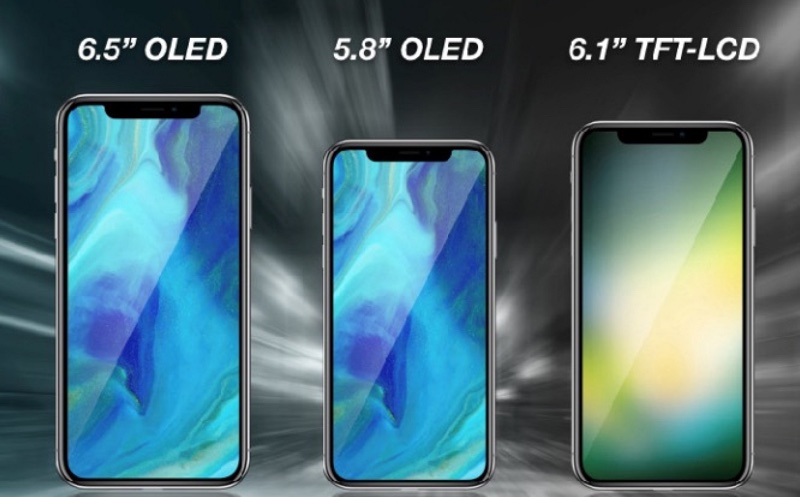 Image: Apple's speculated 2018 iPhone line-up.
Instead of relying on Samsung as a sole supplier, Apple has plans to rope LG into a bidding war with the South Korean company. Unfortunately, reports suggest that LG is struggling to hit supply targets, reminiscent of the iPhone X production, meaning it might not even be a minority supplier for this year's handsets.
The reduction in price will have to come at some point, as OLED technology is normalised, trickling down to lower-end smartphones thanks to the reduced prices of Chinese production lines. Manufacturers in China are reportedly considering slashing their prices even further in an attempt to remain competitive and in business.
It's currently unknown at what price Apple is bartering for, with reports ranging in estimations. Sources, however, expect the price to drop from $110 per panel to $100. Considering the production timeline, results of the supposed negotiations should be revealed in the coming weeks.
KitGuru Says: It would make sense for Samsung to lower its pricing per unit, provided that the contract was to yield more units in general. Especially so after the disappointing sales of the iPhone X, as this guarantees money in Samsung's pocket. Whether or not supply will be met on time remains to be seen.