Update: Following on from the rumour that Samsung would be replacing certain damaged Galaxy Note 7 devices after reports of battery fires, the Korean electronics giant will now recall all sold devices and will halt sales moving forward. Replacement handsets will be issued to affected customers.
Samsung has said that it may take up to two weeks to issue new devices to customers who previously purchased a Note 7 and apologised for the inconvenience. It did not however, announce a day when we can expect the new flagship device to go on sale again.
Original Story: One of the problems that has cropped up time and again with various smartphones over the generations, is that occasionally those Li-Ion batteries overheat and catch fire or explode. It's rare, but it does happen and that problem seems to still be present in Samsung's newly released Note 7, prompting some to suggest it may recall affected devices.
Of course with any such reports, Samsung has had to act, so it's announced that there will be delays in sending out future Note 7's so that it can perform tests to make sure no dangerous devices slip through the net. Although Samsung has not officially admitted what the problem is, the fact that images of several burned looking Note 7s have shown up online, suggests that it is to do with that issue.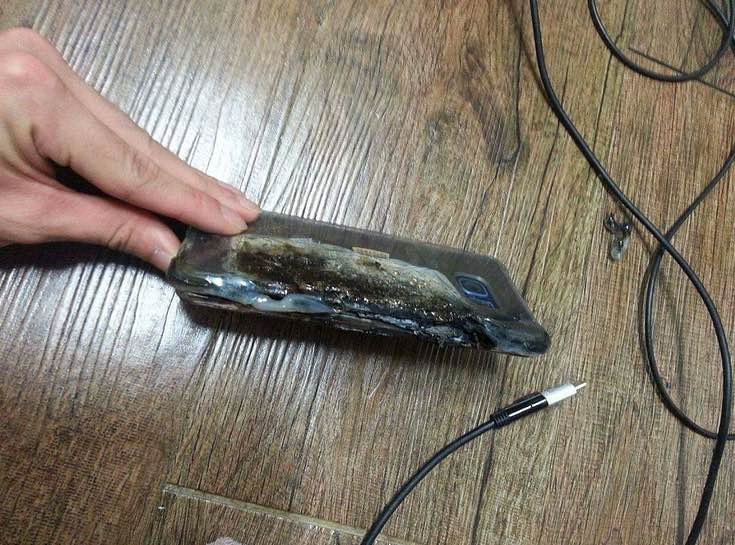 Source: Mr. Ni 666666/Baidu
There isn't much suggestion of what might be causing the issue right now, though some rumors point to dodgy USB Type-C cables, which have been problematic before. The USB Forums has pledged to develop a standard for Type-C cables to prevent that from happening in the future, but if this latest fire hazard is a USB problem, it hasn't prevented much yet.
The latest rumour to spring out of this debacle though, is that instead of sending out new devices to affected consumers, Samsung is looking to recall them, before fixing the devices if possible. This could be so that it can investigate itself what caused the burning, but at this stage we really don't know for sure.
Regardless of how this plays out, it's not good news for Samsung, which has banking on this generation to help recover its phone business which has taken a hit as of late. This latest news could turn off consumers and stock dipped a few points when it was announced that Note 7 shipments would now be delayed to allow for better quality control testing.
Discuss on our Facebook page, HERE.
KitGuru Says: Have any of you been looking forward to getting a hold of the Note 7? If so, will you consider switching now these rumours have begun circulating?
[Thanks Reuters]