At its annual worldwide partners conference Microsoft Corp. said that later this year its partners will release ultra-affordable devices running the company's Windows operating system. The family of such devices will include notebooks that cost $199 – $249 and tablets that are priced at $99.
Microsoft's most important rivals these days are Google's Android and Chrome operating systems that are available for free. In a bid to fight the Android platform the software giant earlier this year made its Windows Phone and Windows operating systems free for devices that feature displays smaller than 9" in diagonal. Apparently, this is not the only effort Microsoft has in plans.
This holiday season Hewlett-Packard will offer a notebook that will cost $199, Microsoft COO Kevin Turner revealed today, reports The Verge. At present Acer and Toshiba are already offering laptops for $249 in the U.S. Mr. Turner also said that HP is planning to release 7" and 8" tablets for $99 this holiday season.
"We are going to participate at the low-end," says Mr. Turner. "We've got a great value proposition against Chromebooks, we are not ceding the market to anyone."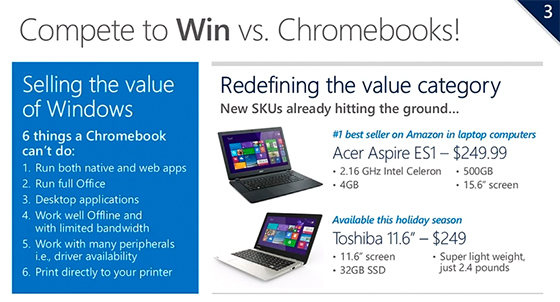 Ultra-affordable systems are not something completely new for the industry. In 2008 – 2010 a number of PC makers offered netbook computers based on Intel Atom processors. The underpowered systems quickly lost popularity after media tablets based on Apple's iOS and Google's Android operating systems emerged in 2010 – 2011.
Discuss on our Facebook page, HERE.
KitGuru Says: It will be interesting to see how Microsoft's partners manage to combine high-quality hardware with low price and still manage to earn money on such PCs…