Notebooks with huge displays designed for gamers and professionals have always been somewhat controversial: while they did provide desktop-class performance, they never offered comfort of desktop PCs and were not truly mobile or upgradeable. As a result, in the recent years the popularity of such PCs significantly decreased. Nonetheless, there are companies who try to innovate and make huge laptops viable again.
MicroStar International on Friday officially introduced its unique GT80 Titan laptop with 18.4" display that combines incredible performance with easy upgradeability and mechanical keyboard, for the first time in history. The MSI GT80 Titan is to be powered by quad-core Intel Core i7 "Haswell" microprocessor for laptops and two GeForce GTX 980M graphics adapters in SLI configuration. The system is expected to feature up to 32GB of DDR3L memory, M.2 solid-state drives in RAID 0 mode for maximum performance and a 1TB hard disk drive with 7200rpm spindle speed for maximum amount of storage.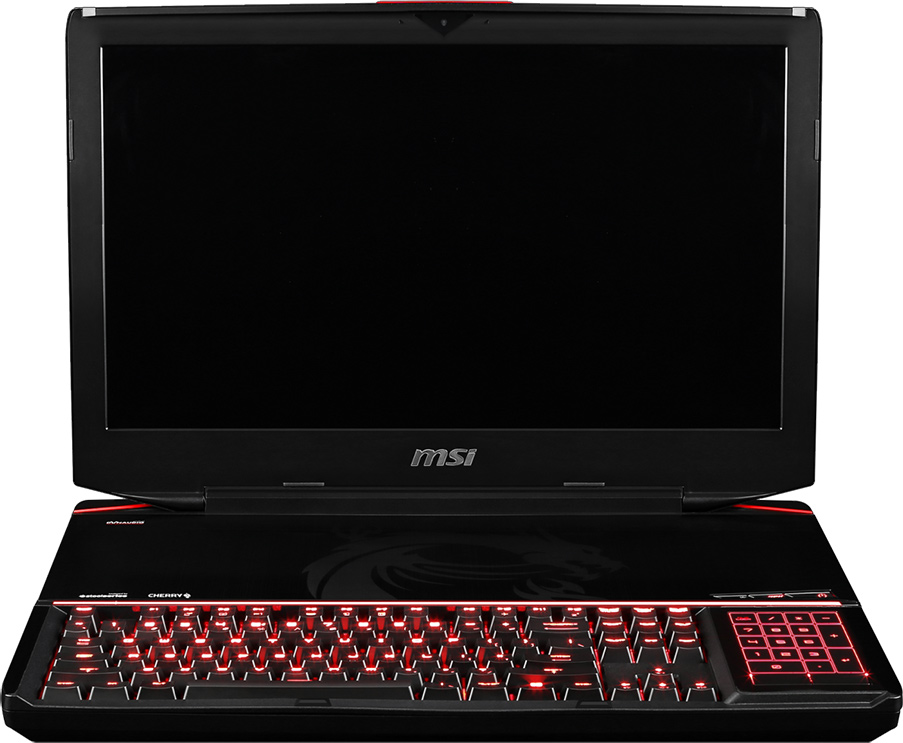 The unique thing about MSI's GT80 Titan is a mechanical keyboard with red backlighting based on Cherry MX Brown switches and made by SteelSeries. The keyboard also sports rather unique touchpad that can act like a keypad as well. Since mechanical keyboard require a lot of space for switches, the GT80 Titan is 49.1mm thick and weighs 4.7 kilograms. According to MSI, this is not the world's thickest notebook, though. Many gaming laptops are even thicker and weight even more despite of the fact that they have membrane keyboards.
"As the first of its kind, the MSI GT80 Titan takes a step into the future by integrating a proper mechanical keyboard with Cherry switches into the 18-inch mobile gaming beast," said Eric Kuo, vice president of global sales and marketing at MSI Notebook. "Apart from this, the GT80 also features Nvidia GeForce GTX 980M graphics, Intel's best and latest mobile CPU as well as our usual selection of carefully developed MSI gaming technologies."
Another unique feature of the GT80 Titan is the fact that its hardware can be easily accessed by removing the front-panel of the laptop. This allows end-users to easily upgrade the system or clean the dust from the inside. Typically, upgrading notebooks requires a lot of hassle and skills.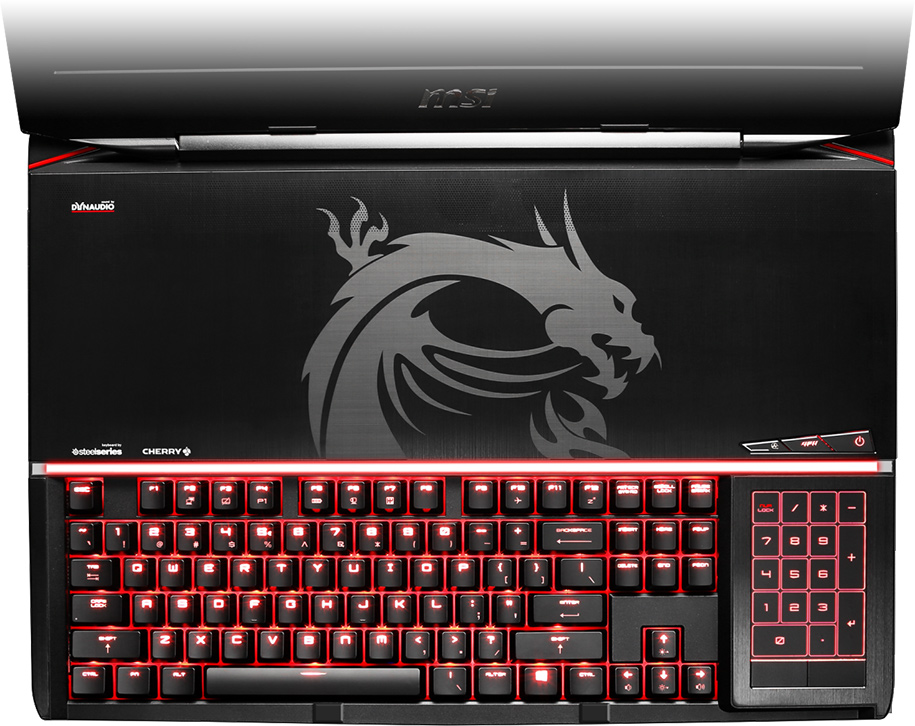 MSI remains tight-lipped about the rest of the GT80 Titan's specifications. The 18.4" display of the laptop will feature at least full-HD resolution (1920*1080), but it is logical to expect the company to provide its customers a choice and offer screens with up to 4K (3840*2160) resolution. While MSI yet has to confirm that, it is possible that the GT80 Titan integrates Qualcomm Atheros Killer DoubleShot Pro network solution that supports Gigabit Ethernet and WiFi 802.11ас (and gives priority to traffic generated by games), Dynaudio and Creative Sound Blaster Cinema audio system, 1080p webcam and so on. Quite naturally the laptop will feature USB 3.0, mini DisplayPort and HDMI interfaces. It is unknown whether the unit also features an optical disc drive.
Keeping in mind the weight and the dimensions of the MSI GT80 Titan, it is hard to expect its owners to carry it with themselves every day. The notebook will be used as a replacement for a desktop-type PC and will likely sit on a desk 99 per cent of the time. While the system most likely has a battery, MSI has not revealed its capacity.
MSI GT80 Titan is projected to be commercially available later this year or early in 2015. The price will vary depending on configuration, but do not expect it to be anywhere close to affordable, extreme performance comes at a cost.
Discuss on our Facebook page, HERE.
KitGuru Says: Without any doubts, the MSI GT80 Titan is a performance beast: it features ultra-fast mobile CPUs and GPUs, a mechanical keyboard and high-performance storage. A big question is how far MSI wants to go with this monster. Theoretically, it could let owners to further overclock components, getting extreme levels of performance out of a clamshell PC. Nonetheless, it remains to be seen whether the company will actually do that.