Battery Life:
To test battery life we used the 'Home' benchmark in PCMark 8. This test isn't hugely demanding when it comes to computational requirements and, although artificial, it is likely to simulate the sort of stress the laptop would undergo while doing a small amount of video editing, web browsing and word processing. We set the screen brightness to 100%, and the keyboard brightness to 100%.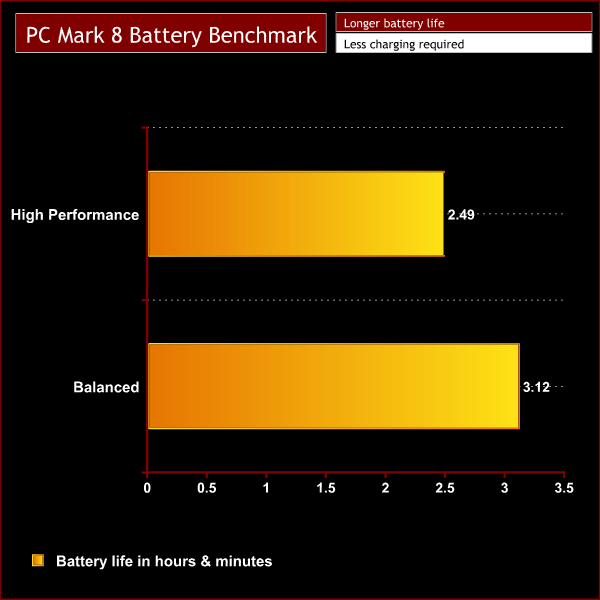 The PCMark 8 benchmark showed that the Fusion II battery lasted 2hr 49mins while in performance mode. As this is an artificial benchmark we would expect in a real world situation this would equate to over 5 hours of normal use. However, if you're using the laptop for gaming or heavy rendering this number would likely significantly reduce.
Changing the power profile to 'balanced' will mean that the laptop won't perform quite as well but it did increase the battery life. We got a benchmark score of 3hr12 which will equate to over 6hrs of use.
Overall the battery life on this laptop is very good when compared to gaming laptops with similar specification. The Max Q GTX 1060 might not be as powerful but a slight compromise on performance means that this laptop is great for users on the go that need their laptop to last.
Temperature testing:
We tested the temperatures while the laptop was set to best performance mode with the charger plugged in. We run AIDA 64 for 10 minutes to stress the CPU & GPU simultaneously and also keep an eye on the temperatures while doing our performance testing.
Under idle conditions the i7-8750H easily reaches a maximum all-core speed of 3.9GHz while sitting at a cool 42C. However, during stress testing we saw the CPU peak at 92C before overheating was detected and the clock speed was reduced. The clock speed dropped to 2.8GHz/2.9GHz across all cores and the temperature fell with it as the i7-8750H levelled out at around 85C once the clock speed was reduced.
This may sound like an issue but it's what we typically expect from this particular CPU. In comparison to other laptops we've tested featuring the i7-8750H, the Fusion II is at the lower end of the scale. It does beat out the Razer Blade 15 that could only maintain a speed of 2.5GHz under sustained load, but unfortunately it is outperformed by most of the other laptops we've tested which can maintain speeds of 3.1GHz and above.
Meanwhile, the GPU temperatures are much better. The GTX 1060 remained at a cool 46C while the laptop idled, and it only maxed out at 76C under load during our performance testing – so absolutely nothing to be concerned about.
Noise levels:
We measured fan noise levels using a sound meter while the laptop was idle with no programs open, and then during stress testing to get a reading with the system under load with the fans set to overboost mode.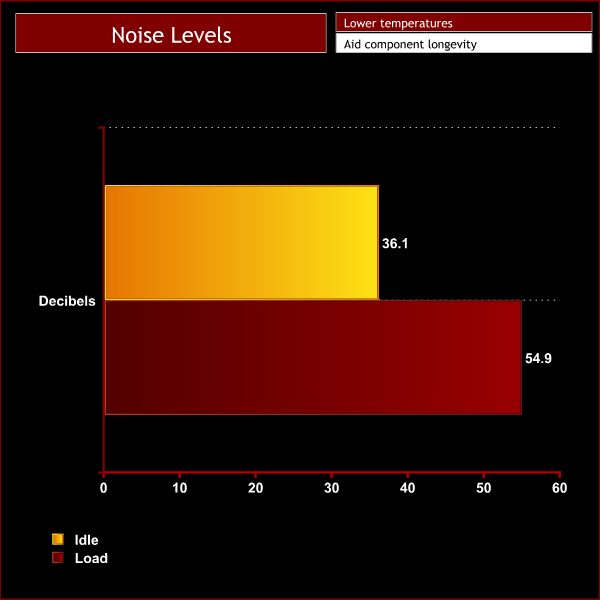 When idling, the Fusion II is very quiet producing just over 36dB of noise.  You have to concentrate on the fan noise to notice it at all.
When pressing the fan boost button or when the laptop is under very heavy load there is a noticeable increase in noise to a maximum of 54.9dB. I would describe it as loud but not unbearable as the speakers can completely drown out the noise. If you're a headset user it is unlikely to be too much of an annoyance but we don't recommend pushing this laptop too hard in a library as the people around you might have something to say about it!