3DMark testing:
For this test, we ran the Fusion II through Fire Strike, Fire Strike Ultra and Time Spy. In the graphs below you can see it compared against similar laptops. Even though they all have similar specifications, slight variations in boost clock speeds caused by fluctuations in temperature have an impact on performance.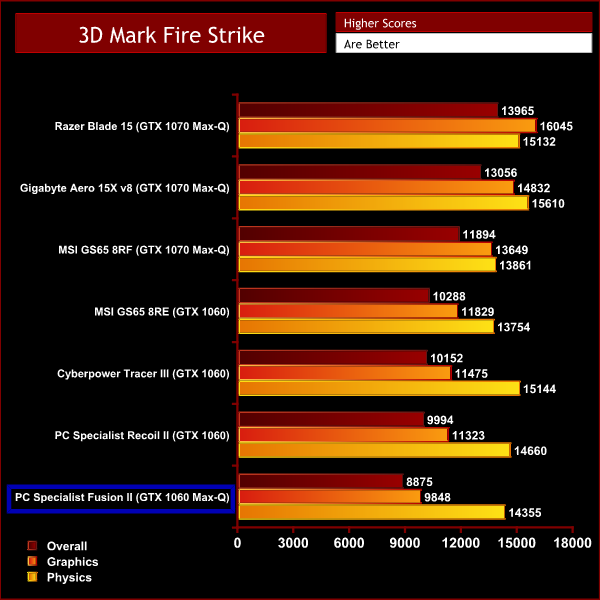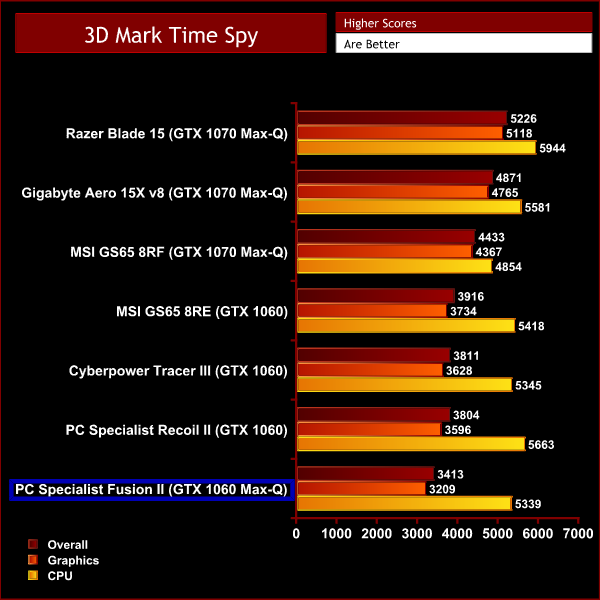 The results from our 3DMark testing see the Fusion II sitting in last place. This is no surprise as other laptops we've tested featuring the i7-8750H have come equipped with more powerful GPUs than the Max-Q version of the GTX 1060. This made clear in the results with the Fusion II lagging slightly behind with its graphics score in all 3 tests.
However, when it comes to the Physics and CPU scores the Fusion II sits comfortably somewhere in the middle as all 7 of the comparison laptops use the same i7-8750H.
When looking at the scores separately from the other laptops we can see that it is a very capable machine that scores well in all 3 tests and should be very capable of playing games and undertaking productivity tasks.
Gaming performance: 
We used the Fusion II to play 3 different popular and graphically demanding games. We tested the games at their highest graphical settings with DX12 turned on and AA disabled. We then compared our findings to similar laptops.
Rise of the Tomb Raider is an action adventure game with many different environments and immersive landscapes making it a useful way to test this laptop's gaming performance.
Far Cry 5 is the most recent release we tested. The gigantic open world of Hope County has plenty of beautiful scenery to test how well this laptop performs with a newer game.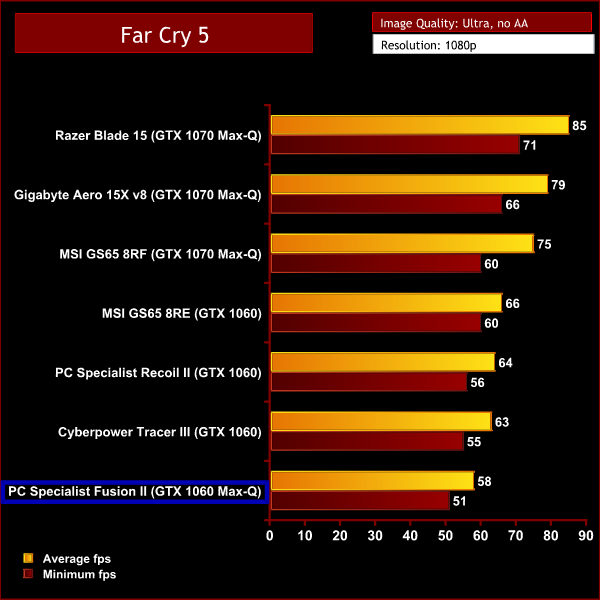 Tom Clancy's Ghost Recon Wildlands is a game with a superb open world environment. The beautiful scenery of mountains, forests and deserts requires a lot of GPU power to render, particularly on high settings. This demanding game is perfect for testing this PC's gaming performance.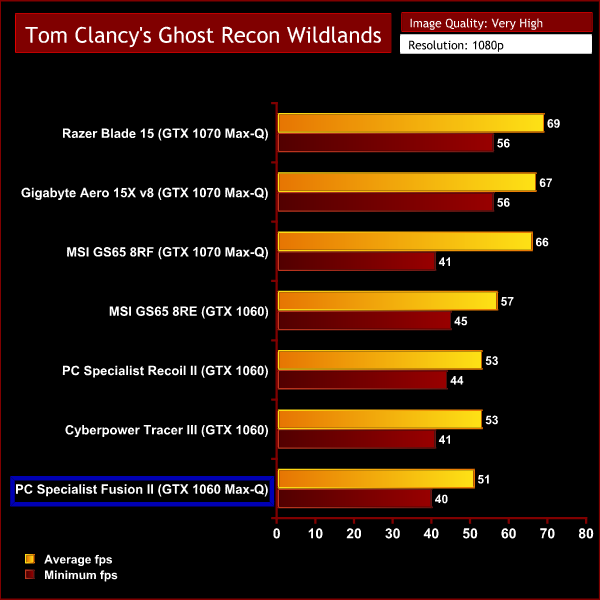 Results from our games testing see the Fusion II once again sitting in last place. This is due to the fact it is rocking the slightly less powerful Max-Q version of the GTX 1060. However the average FPS achieved is still very good when playing demanding games with their highest graphical settings.
There was a minor difference of only 2fps when compared to a GTX 1060 laptop in Tom Clancy's Ghost Recon Wildlands. But the Max-Q GTX 1060 was more noticeable in Rise of the Tomb Raider with a difference of 12fps.
Overall our games testing shows that the Fusion II is quite capable of playing the latest games on high settings with a decent frame rate.