Here we look at CPU and GPU performance of the GT76 Titan. We ran all of these tests with the laptop in 'Turbo' mode, with the CPU set to 5GHz on all cores. By default the machine ships in 'Sport' mode, which runs the CPU at its stock speed of 4.7GHz, but I figure if you want this machine which MSI is very clearly marketing as overclockable, we may as well test it in that mode.
For our games testing, we tested at both 1080p and 4K resolutions.
Synthetic testing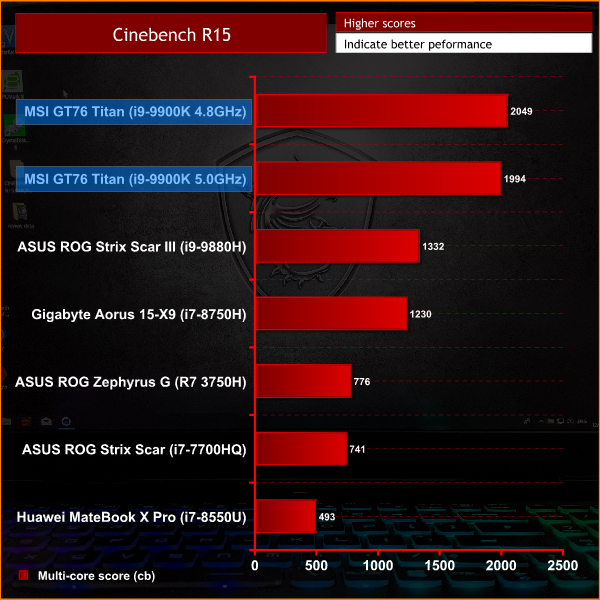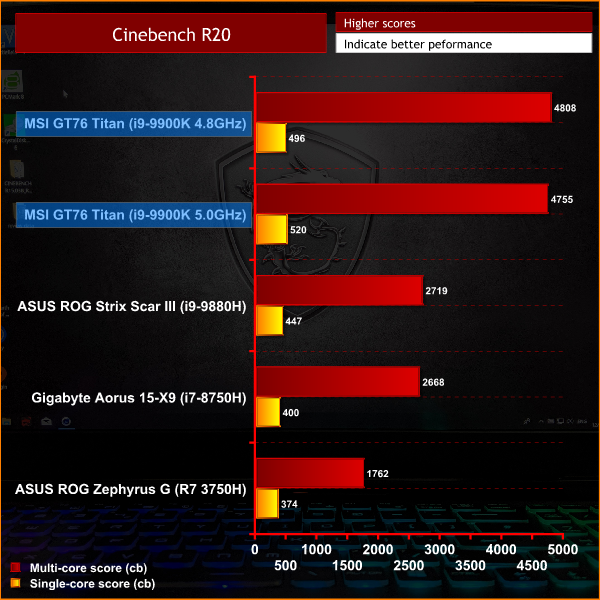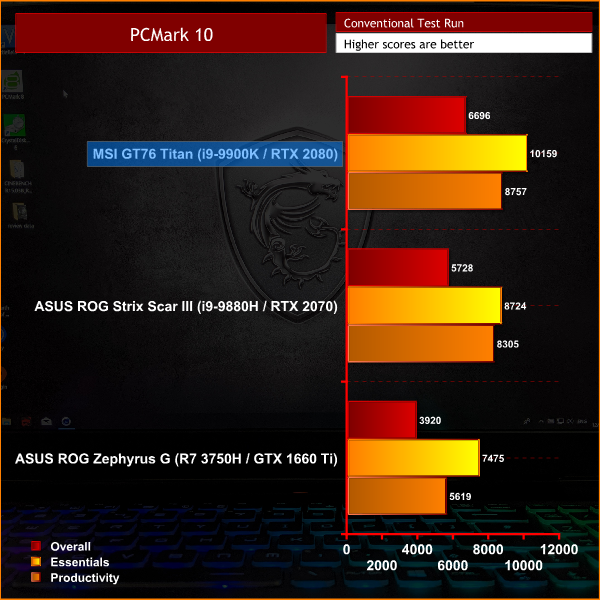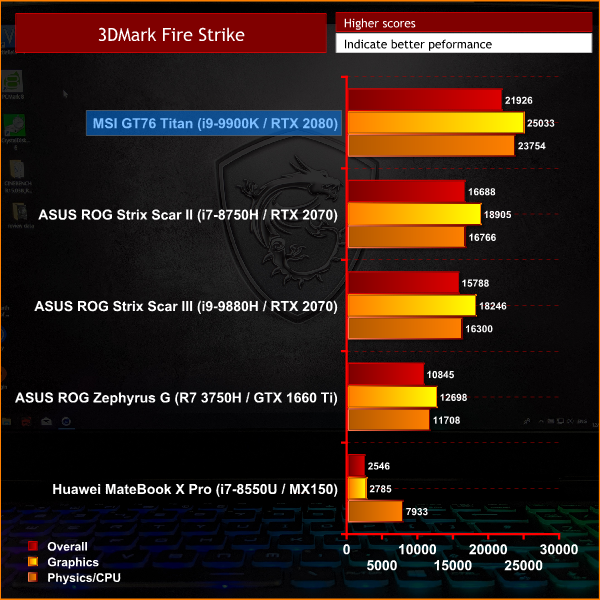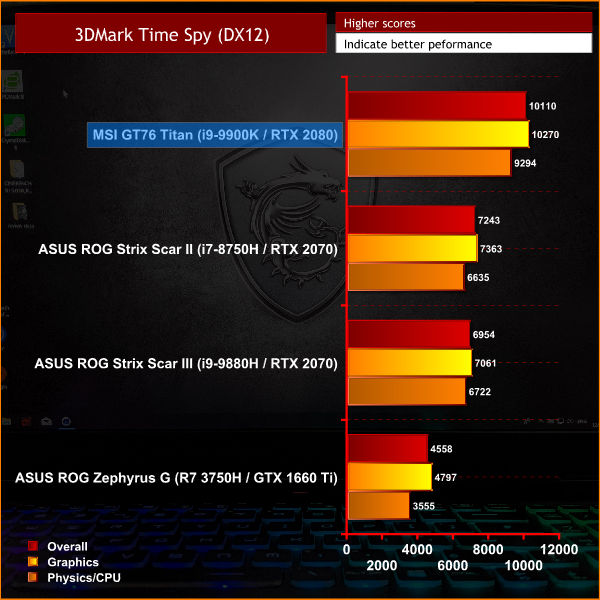 Games testing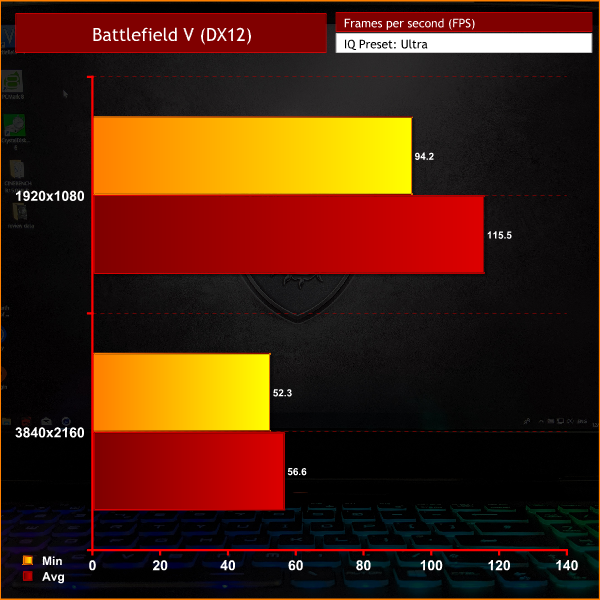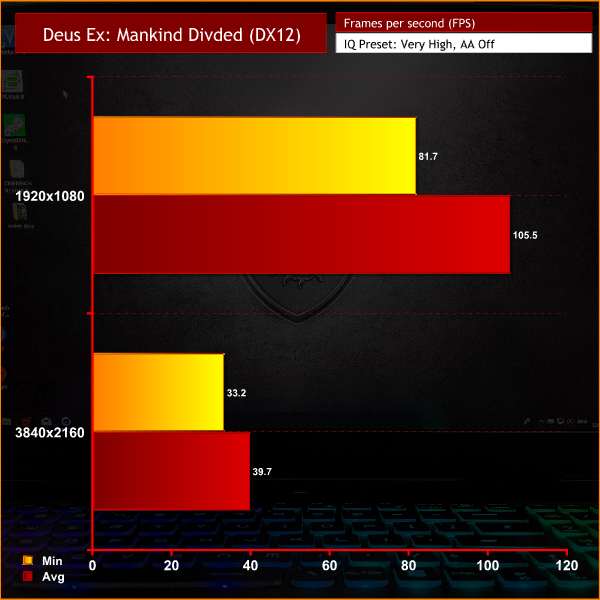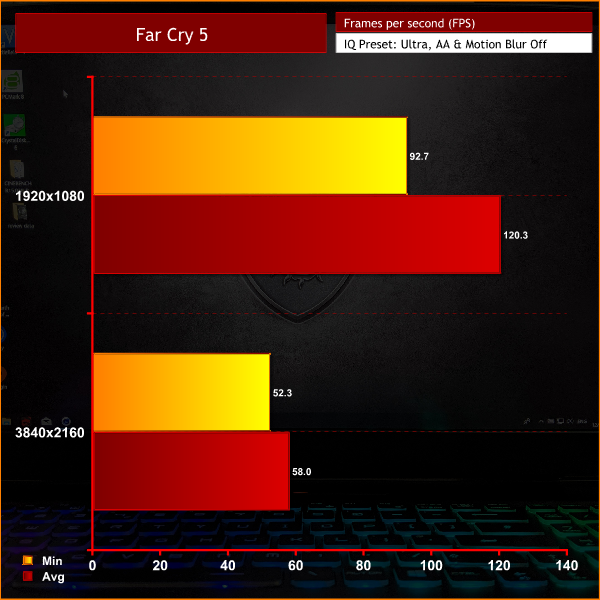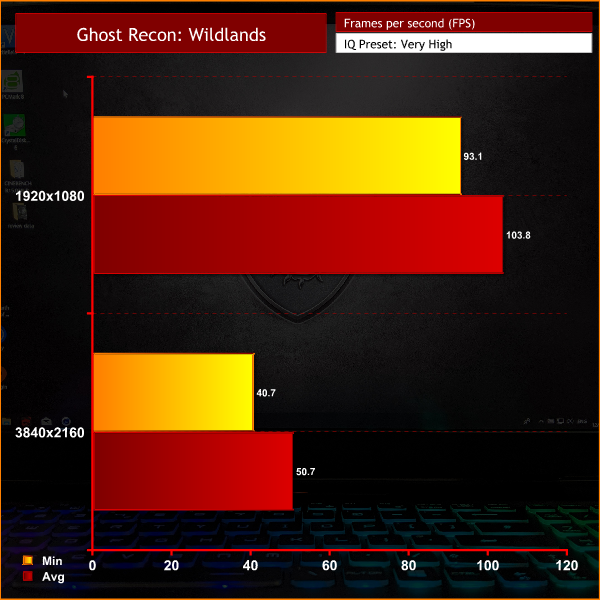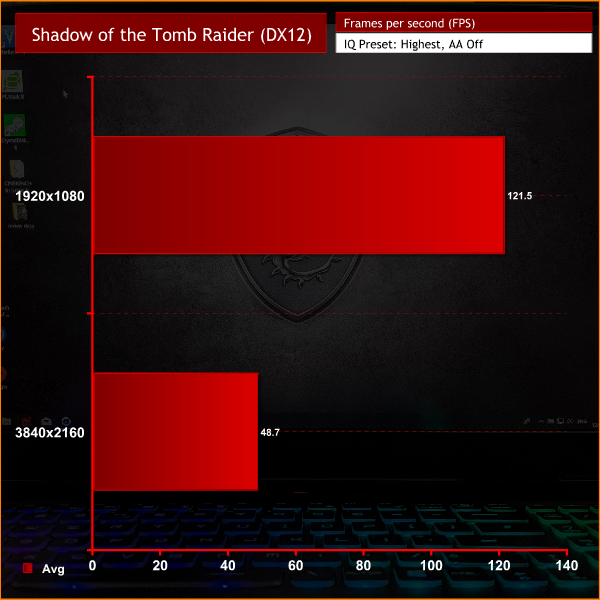 Overview and an examination of clock speeds
There is no doubt that the GT76 is immensely powerful for a portable machine. The desktop 9900K thunders along as if it were just that – in a desktop. Cinebench R20 scores are high, as expected, and Fire Strike and Time Spy results are also remarkable for this machine.
As for gaming, here we come back to the 4K display – you clearly can use the GT76 to game at 4K. The experience is not nearly as smooth as it would be on a 1080p/240Hz display, however, where this machine would be pushing over 100FPS on every AAA title tested. At 4K, you'll have to content yourself with frame rates typically around the 50FPS mark.
Rounding out this section of the review, it is worth discussing clock speeds – as we mentioned, MSI makes a big deal of the fact that the 9900K can run at 5GHz across all cores. As it turns out, they are right – in part, at least. While gaming, the processor will happily sit at 5GHz across all cores and will not budge, with temperatures sitting in the high 80C range (more on that on the next page).
The thing is, based on our testing, 5GHz cannot be sustained on the CPU when dealing with intensive workloads – the cooling solution just isn't good enough. In games, we typically saw CPU utilisation between 30-50%, and that's fine. When we run through Cinebench R20, CPU load hits 100% pretty fast and the CPU has to throttle back, with one core dropping as low at 4.4GHz, but most sat at around 4.7GHz for the remainder of the run.
This means you will actually get better CPU-only performance by running the 9900K at 4.8GHz rather than 5.0GHz, and you can see that in our Cinebench tests – the CPU can maintain 4.8GHz for longer across all cores, and while it will still eventually throttle back to the same 4.4-4.7GHz frequencies, it is able to maintain a higher clock speed for longer versus the CPU set to 5GHz.
As for our graphics core, things are again very impressive, with the GPU clocking anywhere between 1750-1845MHz when gaming. This isn't quite as fast as a desktop RTX 2080 Founders Edition, but bear in mind that is already a factory overclocked card. For all intents and purposes, these are desktop-level speeds.