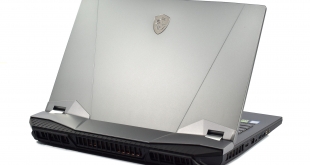 We got our first look at the MSI GT76 Titan back in May, just before Computex. We then followed up that initial hands-on with a sit-down preview of the system last month, and now we can present our full review of this machine. It is a total beast in every sense of the word, weighing over 4kgs (plus two 330W power bricks) and packing a desktop i9-9900K processor which MSI claims can overclock to 5GHz on all cores. When you factor in the gargantuan £4499 asking price, it is clear this machine is not for the faint of heart.
Screen Type: 17.3″ Thin Bezel UHD 4K(IPS Level) LED
Screen Resolution: 3840×2160
Processor: Intel Core i9-9900K (16MB Cache, 3.6GHz Intel Turbo Boost Up To 5.0GHz)
Graphics: GeForce® RTX 2080 8GB GDDR6
Storage: Super Raid 4-1TB (512GB*2) NVMe PCIe Gen3, 1TB HDD (7200rpm)
Memory: 64GB DDR4 2666MHz
Operating System: Windows 10 Pro
Lan Ethernet: Killer Gb LAN
Wireless: Killer ax Wi-Fi 6
Bluetooth: v5.0
USB Ports: 1x Type-C (USB3.2 Gen2 / DP / Thunderbolt™3), 4x Type-A USB3.2 Gen2 , 1x Type-C USB3.2 Gen2
Display Ports: 1x (4K @ 60Hz) HDMI, 1x Mini-DisplayPort
Dimensions: 397 x 330 x 33~42 mm (W x D x H)
Weight: 4.2 kgs
Battery: 8-Cell Li-Ion 90 Whr
Warranty: 2 Year
There is no doubt that the first thing you will notice about the MSI GT76 Titan is its enormous frame, calling this a 'laptop' is certainly somewhat generous shall we say! That's because it weighs in at 4.2 kilos, but you also have to factor in the two very hefty 330W power bricks which, combined, weigh another 1.8kg. On top of that, while MSI claims the GT76 chassis thickness is 42mm at most, when you include the feet on the underside of the machine, the real figure is just shy of 50mm.
The reason for such a hefty chassis is that MSI is doing what few others have attempted – by cramming a desktop Intel Core i9-9900K into this mobile monster. We have seen PC Specialist do the same thing previously, and Alienware has their Area 51m laptop as well, but MSI is very specific about claiming that the GT76 can run its 9900K at 5GHz – across all eight cores.
Alongside that there is also a standard RTX 2080, not Max-Q, graphics chip in this system, with 64GB DDR4 2666MHz memory. Storage comes from 2x 512GB Samsung PM981 NVMe SSDs in RAID 0, as well as a 1TB 7200rpm 2.5in HDD. Powering the machine – for the very brief periods where it can survive without AC power – we have a 90Wh, 8-cell battery.
As for the display, this where things get interesting. That's because MSI has equipped the laptop with a 4K/60Hz LCD panel, which it calls 'IPS-level'. This, for me, is an important point about the machine as a whole – if it had a 1080p/240Hz display (which exists for other models of the GT76, but not with the 9900K CPU) it would clearly be positioned as some kind of absolute gaming monster that would just crush every title thrown at it. With a 4K/60Hz panel, the positioning of this machine changes – to my mind, to want this very specific combination of hardware with a 4K display means you are likely going to want to use it for productivity and work, be it video editing, rendering, CAD etc.
Then again, MSI makes gaming laptops and this is a GT-series Titan, so clearly gaming is a big factor as well. The point I am getting at is that, to want the GT76 Titan with desktop 9900K, I think you would have to be a very specific kind of person who wants powerful hardware for both getting some serious work done, and also being able to play AAA titles come the evening. On top of that, you'd also need some kind of mobility from your system, as while the GT76 is not exactly backpack-friendly, it's certainly easier to carry around and set up than a traditional desktop/monitor workspace.
I'm honestly not sure how many people will fit into that category – it's certainly niche. For those just looking for an OP gaming laptop, other models of the GT76 are available with i7-9750H processor and a 1080p/240Hz display for almost £1000 less than this machine I have here.
Be sure to check out our sponsors store EKWB here